LeEco has been talking about its dream to make a super car in partnership with heavyweights like Daimler and Aston Martin. And it seems like the company has not been making false claims – they have showcased the Le Super Car at an event in Beijing, China this week which emphasises that LeEco means business.
The company unveiled its concept car model of Super Car that will be heralded among the top automakers to watch out for at the upcoming Beijing Motor Show, starting next week. LeEco claims that when the Super Car enters the market, expect the Tesla Model 3 to be right in their sights. Here's what LeEco's Tesla competition has to offer.
Just a small heads-up: One must take these features with a pinch of salt, and if not all of them make it to the roads, don't blame us.
What Is the Super Car About?
Le Super Car showcased at the LeEco event. (Photo: The Quint)
LeEco statementThis concept car mainly takes on the idea of "inter-connection"; not only does it have fully-automatic driving functions, it can also learn on its own, with facial, emotion system, and path recognition also.
It is an electric car that, as per the company, is categorised in the D-Level category – but once it is manufactured, LeEco claims the pricing will surprise many.
LeEco Super Car concept model.
The interiors of the LeEco Super Car is your gateway to the future.
The Super Car's smartness will be powered by LeSee ('SEE' stands for 'Super Electric Ecosystem'), the operating system developed by the company. It's a four-seater, where the people seated at the back enjoy the comfort of a cloud, as suggested by LeEco.
How's that for the steering of an electric car?
The Super Car is equipped with internet-powered touch screens, and the windshield lets you experience augmented reality like never before.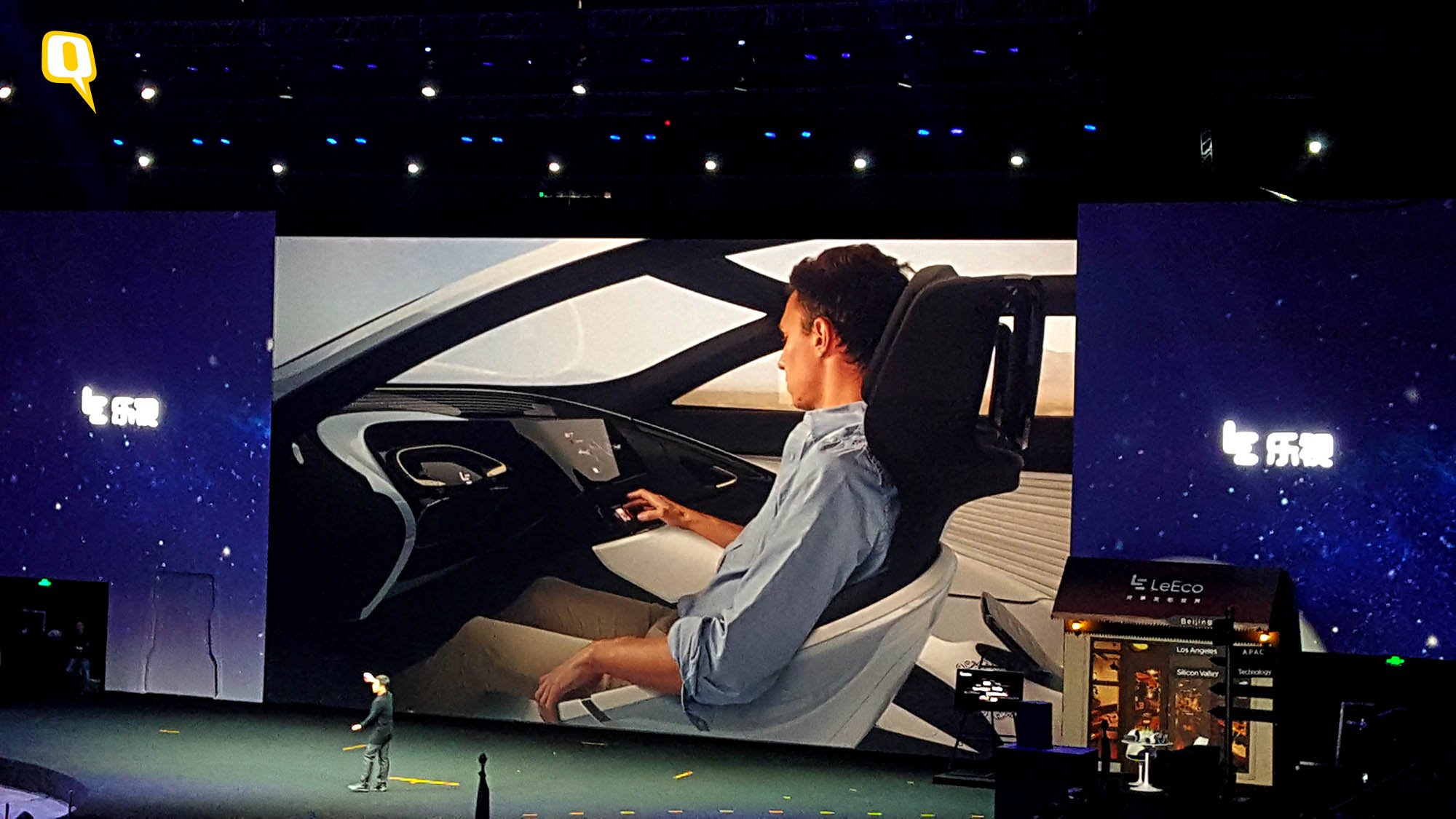 Passengers sitting in the Super Car will have lot of fun.
LeEco has placed the battery pack underneath the body of the car, which lets the car hit speeds up to 209 Km/hr, as claimed by the company.
LeEco Super Car is worth watching.
(The author was in Beijing to attend the LeEco event this week.)