Sony is known for its credibility in the audio space, right from the days of Sony Ericsson phones. The company has mastered its prowess with products that are high on quality which never felt overpriced.
When you talk about wireless headphones, it is hard to find one unless you spend upwards of $150 but much to everyone's delight, Sony's playing the bold game now. Their MDR-XB650BT wireless headphone is priced at less than $130, putting it right amongst other options like Creative and Jabra.
Sony MDR-XB650BT headphone. (Photo: The Quint)
Pros:
Affordable wireless headphones
Voice-calling support
Good music quality
Bass output at right ratio
Bluetooth and NFC connectivity
Long battery life
Cons:
Not suited for all users
Limits long-duration usage
Sony MDR-XB650BT headphone. (Photo:The Quint)
What's Good?
Sony is good with music, and that continues to be the case even today. One thing you're guaranteed to be satisfied with in the MDR-XB650BT headphone is its audio output, well complemented with a balanced bass ratio. Rock, soft rock, jazz, blues, all kind of music genres go well with these headphones.
Sony MDR-XB650BT headphone. (Photo: The Quint)
What's good to know is that you can tank up the volume of the headphone without worrying about distortion or sound creaking into your ear drums. It's hard to find a wireless headphone in this price bracket that can offer audio of this quality. You might even like the element of noise-cancellation on offer, which may not be up to the level of a Bose gear, but is still good enough for this price.
Setting up the headphone with your Android/iOS phone is easy and hassle-free. You can also use the built-in NFC feature to pair the headphone and phone. Once paired, a voice command lets you get going.
Sony MDR-XB650BT headphone with voice-calling support. (Photo: The Quint)
The construction of the headphone is worth appreciating and it's good to see that Sony has taken all points under consideration before rolling out the final product. Right from the use of foam for cushioning, to the metallic rim holding the headphone, all those intricacies are worth its value.
The fact that MDR-XB650BT lets you take calls is a big bonus and for what it's worth, the quality may not match an in-ear headphone level but when it's wireless, we'll take what is being given.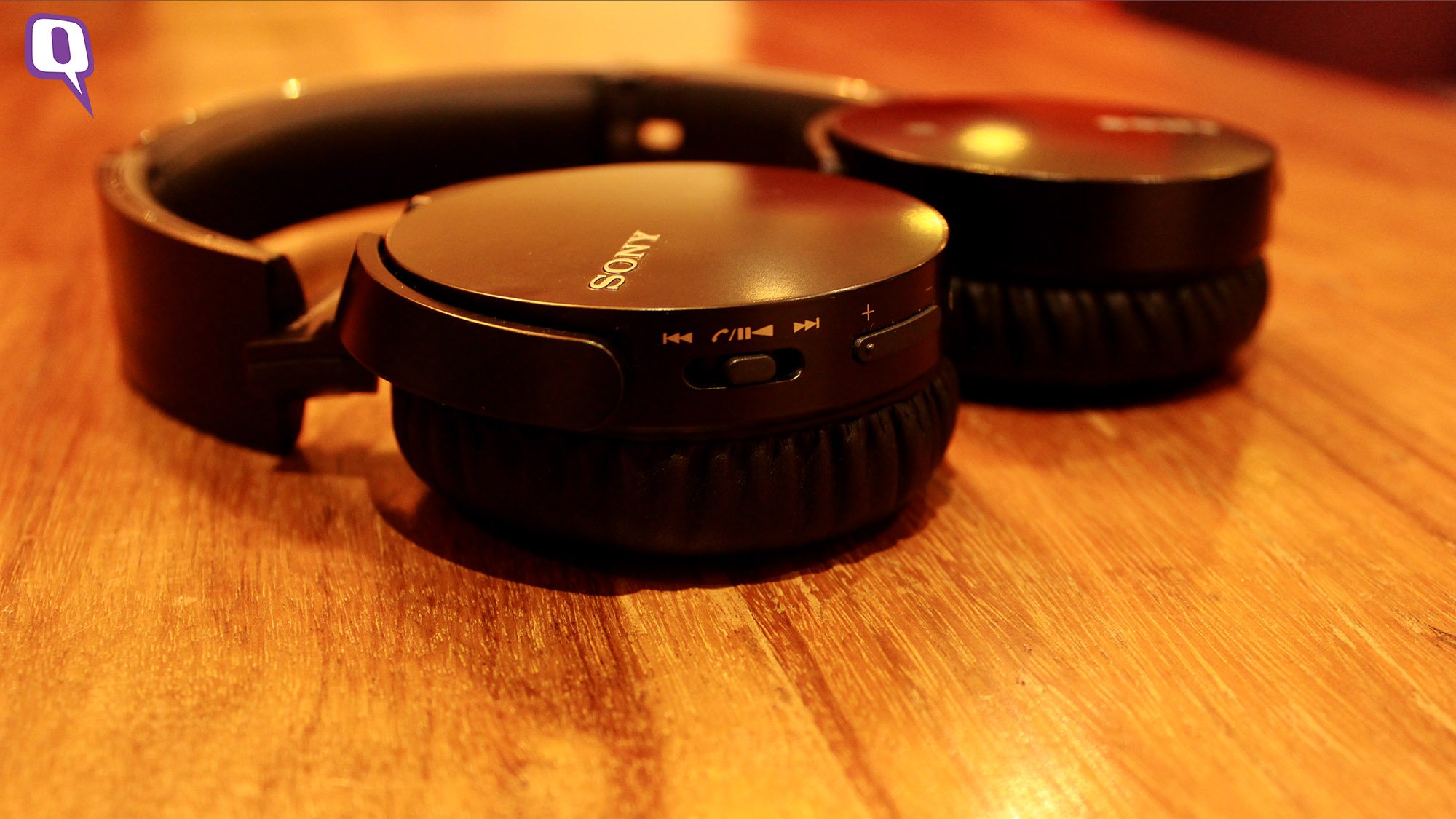 Sony MDR-XB650BT headphone. (Photo:The Quint)
The next big factor to look at before buying is the battery life. And you'll be pleased to know that this wireless headphone can last you a long time on a single charge. We managed to continuously use the product for over 10 hours, which is what a wireless audio gear should offer – full marks to Sony for that.
What's Bad?
Before buying these headphones, you must make sure that the small-size cushions do not end up ruining your audio journey. The size of ears makes a world of difference in such cases. If the user's ear size is marginally larger than the average size, then the MDR-XB650BT might not be the right fit for you.
Sony MDR-XB650BT headphone. (Photo: The Quint)
If you do end up buying them, chances are they will never make it out of the box after you are done using them for the first time. Nobody would like to spend up to $130 to not use them, and hopefully, you can make sure that doesn't happen to you as well.
Also, it is worth pointing out that the controls on the headphone are positioned under the cans. It's hard to use those buttons when one is wearing them over their head. Again, not ideal.
Why Buy It?
The Sony MDR-XB650BT wireless headphones have a lot going for it. Priced affordable for the features on offer, the audio quality is worth the recommend as well. You also get the voice-calling support that lets you take calls even when the phone's not close to you.
Sony MDR-XB650BT headphone. (Photo:The Quint)
The design and build of the headphone are also of top quality and the extra bass on offer does not overpower the sound production of the music. However, the size of the cups ensure that not everyone can use these headphones; they become uncomfortable to wear after using for less than 10 minutes.
Make sure you try them out before buying one. You can look at options such as Creative WP450 or the Jabra Move, but the Sony MDR-XB650BT headphones are worth your money, but only if the size is right.