Would you be willing to replace your last-gen laptop with a sleek, Android-powered tablet?
Well, according to poll results cited by Sybase, at least one in four Americans surveyed (23 percent) would happily swap their laptops for Android-based tablet devices.
Similarly, one in four confirmed they were likely to use a tablet instead of a laptop at both work and home.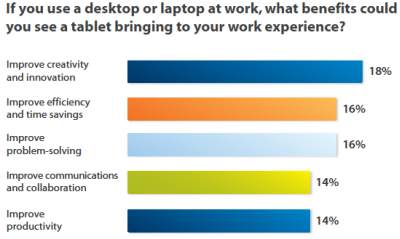 Indeed, improvements in creativity and innovation were cited as the number one benefit tablets could bring to the workplace (18%), closely followed by efficiency, time savings and problem solving (16%) and communication, collaboration and productivity (14%).


Interestingly, almost 33 percent emphasized that they considered a physical keyboard to be a crucial tablet component, while 56 percent listed software and apps as "important" deciding factors in purchasing a tablet.
In addition, the highest percentage of respondents preferred a nine-to-10- inch screen size for a tablet (50%), followed by 12 inches (26%), 7 inches (21%) and five inches (3%).
Nevertheless, tablet-based video conferencing and camera functions were only of "limited" interest to seven and four percent of respondents, respectively.
Finally, 29 percent confirmed that their ideal price for a tablet would be less than $300, while 56 percent noted they would prefer to buy a device at a lower cost with an attached data package – instead of at a higher cost with no contract.