If you're searching for a last minute Christmas gift – especially for family in the UK or Europe – look no further than the solar powered SolarPod charger by ThousandSuns.
According to its designer, SolarPod is an "innovative, simple and stylish" way to kick the grid-tied electricity habit for a wide range of techno gizmos and appliances.
It isn't a cheap stocking stuffer however, costing around £499.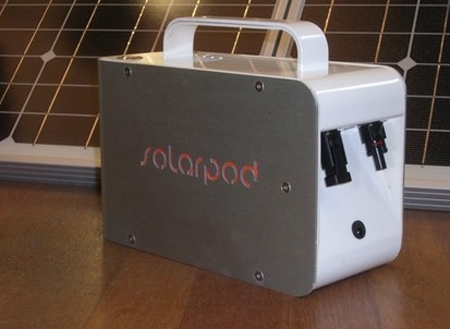 This solar charger comes complete with an eco-friendly LiFePo4 (Lithium Iron Phosphate) battery and includes a 300W inverter, a UK 3-pin socket (or a continental 3-pin socket, for Europe), 2 USB ports and a 12V car socket. 

It can be charged either via the 30W/60W foldable solar panels or by plugging it directly into a wall.
We especially like the fact that this charger features a standard outlet, which allows for just about anything that plugs into a wall – TVs, stereos, games consoles, laptops, phones, power tools, etc.-to work with it.
In addition, you can choose either "a robust, yet lightweight and waterproof aluminium panel that allows stability on most surfaces or a completely foldable and flexible system."