Seattle biofuel producer Imperium Renewables and the Pacific Northwest National Laboratory (PNNL) are developing a new catalytic process to convert biomass-based alcohols to drop-in jet biofuels.


So far, the process has successfully produced enough fuel to evaluate how well it can blend with traditional, petroleum-based jet fuel.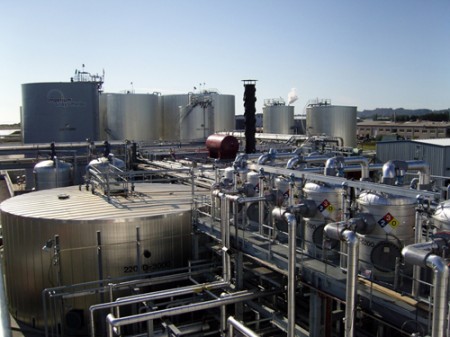 This work is being further developed as part of a recent award from the U.S. Department of Energy (DOE) for a new biofuel research project led by Roselle, Illinois-based LanzaTech. 


LanzaTech will convert biomass to intermediates, such as alcohols, and PNNL and Imperium will follow up this process by converting the alcohols into a renewable jet fuel that works in today's existing aircraft. 

Imperium is also providing in-kind contributions for PNNL's research and is funding related research at the University of Delaware and Michigan Technological University.



"This grant will help us provide sustainable, economically viable drop-in biofuels that will allow the Department of Defense and airline industry to become less reliant on foreign oil," said Imperium CEO John Plaza. 


"Imperium is excited to be part of this partnership and to continue our work with LanzaTech, Boeing and PNNL to develop renewable jet fuels from multiple feedstocks."
The ultimate goal is to scale up the process so that it can be used at a commercial plant, such as Imperium's Grays Harbor biodiesel refinery near Hoquiam, Wash., which produces 100 million gallons of biodiesel per year.
Other partners in the new project are the National Renewable Energy Laboratory, Orochem Technologies and Boeing, with support from the Port of Seattle.