Kia Motors, normally relatively quiet on the alternative automotive front, has been busy in the last week. Not only did it showcase the 2014 Optima Hybrid in Chicago at an auto show, but it also used that venue to unveil its Soul EV electric car. One other offering turning up there is well, and making its U.S. debut, was the Niro hybrid urban lifestyle concept vehicle.
The Niro, according to Kia, comes equipped with a drivetrain that combines an unspecified electric motor with a variant of the automaker's turbocharged 1.6-liter 'Gamma' engine that's capable of kicking up 160 horsepower. This engine, and a seven-speed, dual-clutch transmission, serve the front wheels, while the motor, powered in part by regenerative braking, delivers up to 45 horsepower as road conditions require extra grip.
In this urban concept is hinted "a possible future B-segment contender ready to take on the city environment with style and fun-to-drive attitude, featuring a mix of contrasting materials and compact, purposeful dimensions." It comes equipped with four-wheel drive, and the vehicle sits atop large 225/40R-20 tires mounted on milled-aluminum 20-inch five-spoke wheels.
Entry into the Niro is gained by way of dihedral 'butterfly' doors with flush door handles, that swing up high into the roof. Mounted directly onto the side windows are milled Plexiglas door mirrors with built-in cameras. And at the rear, the large hatch opens to reveal a carbon-fiber-clad cargo deck used to stow away personal goods.
The vehicle on the interior is set for a 2+2 configuration, with the seats being molded one-piece offerings in the front. For the driver, that person's side comes with fully adjustable pedals and a deep-dished aluminum and leather steering wheel. Ahead is what's called a "Supervision digital instrument cluster," and additional information – such as altitude, Bluetooth functions and satellite navigation — is displayed on a center console-mounted screen. This screen also allows the driver to see and record live pictures from video cameras mounted at the front, rear, sides and within the vehicle.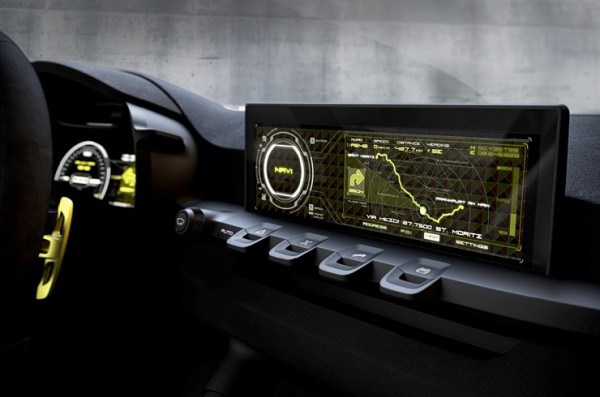 And finally, rising up between the transmission tunnel and the main dashboard structure, are two anodized aluminum columns. The left column houses the engine Start-Stop button as well as the main transmission drive control. The right column has additional touch-sensitive panels which allow control of the in-car entertainment and computer functions displayed on the center screen.
The Niro follows in a long line of rather fun Kia hybrid and electric vehicle concepts. Like those, it isn't clear if what this car is will be what actually appears in showrooms someday, but perhaps some lessons learned from it will show up in future for purchase choices.