Saint Steven Jobs has finally unveiled Apple's hallowed iPad tablet device.
11:30 am PST: Described as a "magical device," but still, no information about multitasking or notifications.
11:25 am PST: WiFi models ship in 60 days, 3G in 90.
11:20 am PST: Wifi+3G – $630 16GB, $730 32GB, 64GB $830.
11:20 am PST: WiFi models – $500 16GB, $600 32GB, 700 64GB.
11:17 am PST: Gloria in excelsis Deo! Prices announced! Starting at $500. 11:15 am PST: Offering unlimited AT&T data plan for $30 a month (iPad), free use of AT&T WiFi hotspots, no contract cancel anytime.
11:10 am PST:Jobs confirms that the iPad syncs over USB just like an iPhone or iPod. Every iPad has WiFi, but some models will offer 3G.
11:05 am PST:New tool announced – Page Navigator. Allows users to quickly navigate through pages by jumping. Also features image drags and text reformats.
11:00 am PST: Jobs confirms specially designed iWork for the iPad.


10:50 am PST: Introducing iBooks (store). Five major partners announced, including Penguin, Macmillan, Simon & Schuster.



10:50 am PST: Brushes app for the iPad – featues context menus for brush and color options.
10:47 am PST:New York Times for the iPad – new layout. Easily resize text and view embedded videos inside articles.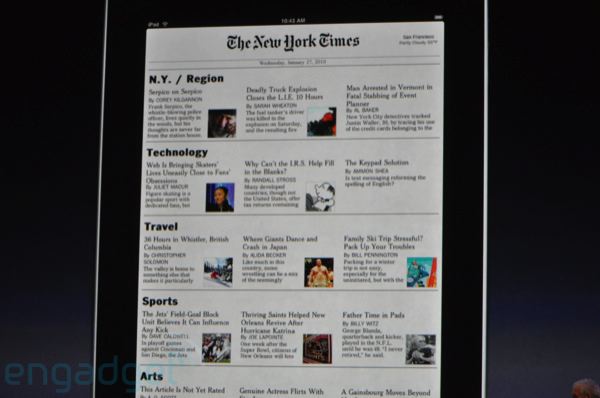 10:45 am PST: All iPhone apps are expected to run on iPad. However, developers can modify apps for the iPad to take full advantage of display. New iPhone SDK released today supports iPad specs.
10:40 am PST: OpenGLS game titles render and play smoothly.
10:35 am PST: Can run all iPhone apps unmodified out of the box. Pixel double and run the apps full screen.


10:30 am PST: More hardware details: 16-64 GB of storage, Bluetooth, Wifi, accelerometer and compass, speaker, microphone, 30 pin connector, 10 hours of battery life (month on standby).


10:25 am PST: Hardware details: .5 inches thin, 1.5 pounds, 9.7 inch IPS display, full capacitive multitouch, powered by Apple's "own" silicon – the 1GHz Apple A4 chip.
10:25 am PST: Steve says it "just all works," shows off full HD streaming video capabilities.
10:23 am PST: Jobs showcasing iTunes – which is "built right in" to the tablet OS. Can buy songs and sample music.
10:18 am PST: Jobs touts photo browsing.
10:15 am PST: Steve Jobs showing the audience how to surf the web and check e-mail on the iPad.
10:15 am PST: And it's awesome to watch movies and TVs… let's take a look at the device."


10:09 am PST: "So all of us use laptops and smartphones… the question has arisen; is there room for something in the middle. We've wondered for years as well — in order to create that category, they have to be far better at doing some key tasks… better than the laptop, better than the smartphone. We think we've got something that is better. And we call it the iPad."



10:02 am PST:Engadget – "Next update — the app store. We have over 140k apps, and a few weeks ago we announced a user downloaded 3b apps."
10:02 am PST:Engadget – "We want to kick of 2010 by introducing a magical and revolutionary product today… but first I have a few updates."
10:01 am PST: Steve Jobs appears on stage.
9:59 am PST: Kotaku – Apple orders audience to turn off cell phones and paging devices.
9:50am PST: Kotaku spots Al Gore shaking hands with the audience.
9:46 am PST: Patents given to Apple just before lauch. We are sooo close. More here.
9:45 am PST: From Kotaku "Just sat down in the theater. Big Apple logo on screen. Black box on right of stage. Leather couch on left of stage. You'll be thrilled to learn that the current soundtrack for today's event is Bob Dylan."
9:31 am PST: Western civilization is poised to receive what has been described as the second most important tablet in history. Saint Steven Jobs, we await your announcement with bated breath and rapture!
9:21 am PST: We really have to pee but are afraid it might cost us our job. What if Waldo suddenly shows up carrying a prototype?