From a scrappy upstart with the simple vision to deliver a ridiculously awesome smartphone at a ridiculously sensible price,
to a three-device-old firm whose next product is one of the most anticipated devices this year, OnePlus has come a long way.
OnePlus has not just toned down the hype surrounding its products, such as getting rid of the much cursed invite system, but has learnt from its mistakes with regard to the OnePlus 2 and the X, to truly become a "flagship killer".
So, this is the OnePlus 3, and for a phone that has seen as many leaks as this one, including one on the day before the launch,
it may appear we already know everything there is to know about the phone.
OnePlus 3 gets a 5.5-inch form size.
Pros:
Gorgeous design, with excellent notification slider
Class-leading performance
Hard-to-beat value
Bloat-free software
Good fingerprint sensor
Decent battery life
Cons:
Slow charging without proprietary charger
Low resolution for VR
Low-light photography sub-par
Lacks expandable storage or removable battery
What's Good?
Straight off the bat, the OnePlus 3 feels nothing like the broad slab that was the OnePlus 2 (or the slippery sliver the OnePlus X), and the all-aluminium unibody design is incredibly well-built and refined.
Narrowed bezels around the screen, a 2.5D curved Gorilla Glass 4 up front and a gently curving back means that it's thinner and
more comfortable to hold.
Thin bezels make the phone look appealing.
The fingerprint sensor has been improved – both in terms of speed and accuracy – and unlocks the phone without needing to wake the device up, in effect making it faster than the iPhone or the Mi5.
The OnePlus 3 retains the super useful notification slider on the side, which switches between silent, priority and all notifications – a feature you will definitely get used to.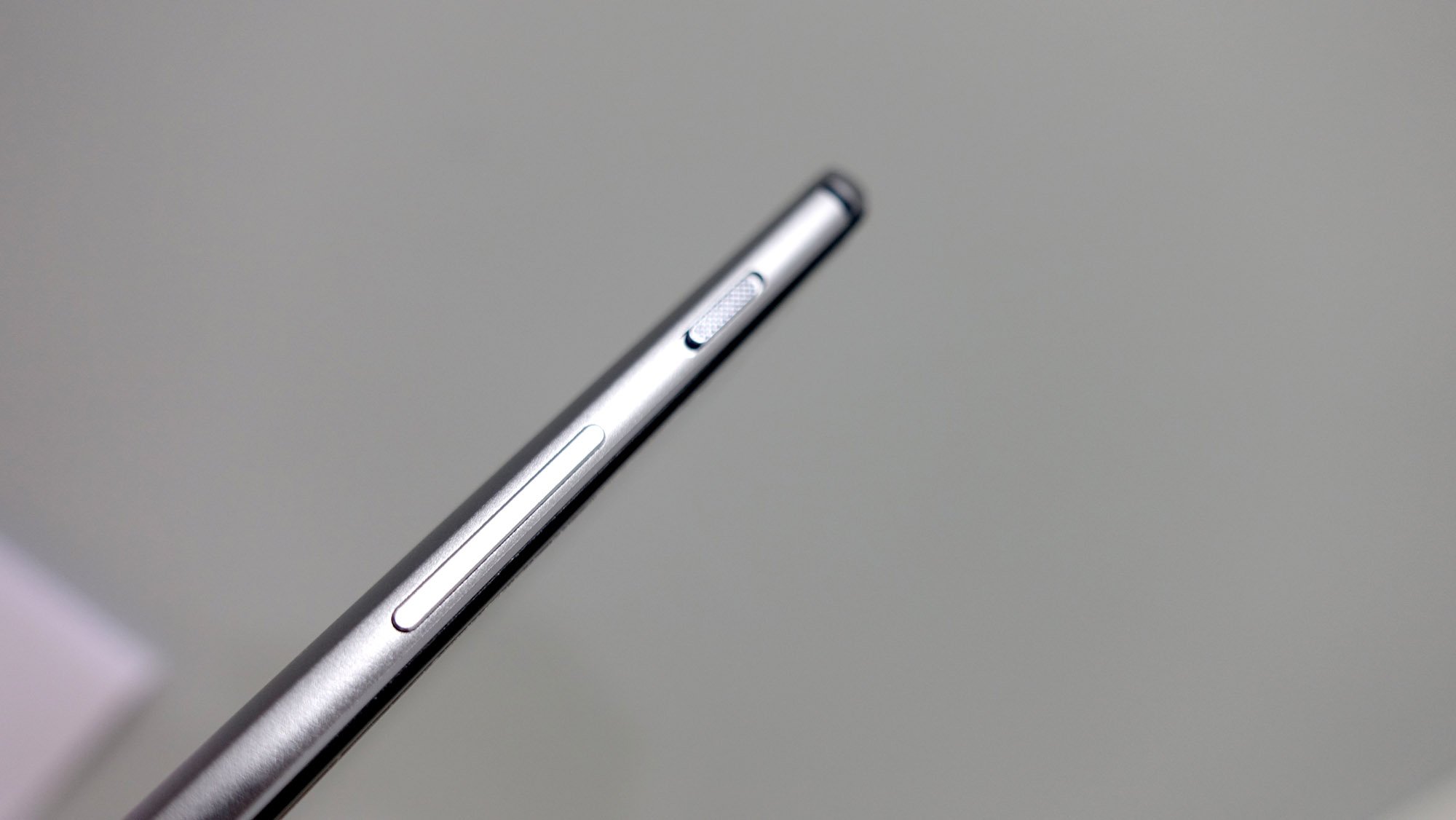 Notification slider on the OnePlus 3.
Now, for reasons best known to OnePlus (likely a combination of battery saving and higher performance), they've resisted the urge to up the display resolution on the OnePlus 3, sticking to a safe 5.5-inch 1080×1920-pixel resolution.
The AMOLED Full-HD display is bright and sharp.
Only this time around, the OnePlus has an AMOLED screen, which means brightness levels are a tad lower than competing phones with IPS LCD screens. However, you get deeper black levels, improved contrast ratio and a wide colour range that only an AMOLED screen can deliver.
It's one of the best full-HD smartphone screens out there, but the resolution (or lack of) sticks out like a sore thumb on an otherwise insane spec-sheet.
OnePlus 3 gets an all-metal unibody design.
Also, a more pixel-dense screen would have helped its case for VR-headsets, but other than that, it's good for daily use.
Coming to the specs, the OnePlus 3 runs Qualcomm's flagship Snapdragon 820, which we've seen in action in the G5 and the Mi5, but what sets the OnePlus 3 apart is the extra 2GB of memory it packs under the hood. It's expectedly snappy and despite the metal body, handled long gaming sessions without getting noticeably hot.
The 16-megapixel snapper at the back.
OxygenOS has matured in the past year, and is one of the better bloat-free, near-stock Android 6.0.1 versions out there, and it packs a bunch of useful gesture controls to boot.
I used the phone as my device and the 3000 mAh battery lasted just over a day of moderate use. Heavy users may need to charge the phone once during the day.
What's interesting is that the OnePlus 3 ships with proprietary fast charging tech, which shifts power management from the device to the charger. This means, you
get a phone which doesn't heat up much while charging and a quick 30-minute splash and dash gives you 60 percent charge.
OnePlus 3 gets a 3000mAh battery with fast charging.
The final piece of the puzzle – the camera – is a 16-megapixel rear shooter with an f/2.0 aperture lens, optical image stabilisation, and 4K recording capability. It shoots detailed, colour-accurate images in various shooting conditions, and is quick to launch.
I found the Auto Mode to be a bit inconsistent. However, the camera works extremely well in Manual Mode.
In low-light conditions, the images tend to be a bit grainy at full crop, and the app could do with more shooting modes . Overall, it's a perfectly competent camera but it's not quite the best.
What's Bad?
For a change, there's little to complain about. The OnePlus 3 is a well-thought out device, with no real deal-breakers.
OnePlus 3 runs Qualcomm's flagship Snapdragon 820.
Sure, if you're nitpicking, it doesn't have the S7's water-resistance, quad-HD display or wireless charging, the 64GB onboard storage isn't expandable either, and the low-light camera performance could do with some work. But the phone looks great, does its job well and costs so much less than other "flagships". This is unquestionably a great value-for-money device.
Why Buy It?
For the price you will be getting a beautiful, well-made top-spec smartphone without having to jump through hoops.
OnePlus 3 gets comes with several cover options.
Its omissions are minor and don't detract from the fact that this is a fantastic smartphone. OnePlus' measured and balanced approach has worked.
Recommended without reservations.
(Tushar Kanwar is a technology columnist and commentator )