It's a pretty ambitious device, almost deliberately different in every sense from run-of-the-mill mid-range Android handsets. The company's founding team also boasts of legendary levels of pedigree, including stalwarts from Google and HTC.
Presenting the Nextbit Robin, the first Android smartphone to feature deeply integrated cloud storage. Of course, the question to ask is – is being different
enough to sell the Robin to the masses, or is it, quite literally, a case of the company having its head in the cloud?
Pros:
Distinctive design
Bloat-free Android
Good performance
Innovative storage management
Stereo speakers
Cons:
Average camera
Mediocre battery life
Cloud storage needs work to be truly useful
Nextbit Robin is powered with cloud.
What's Good?
The Nextbit Robin stands out from the crowd, despite it conforming to a flat, slab-like rectangular shape. With no rounded edges, no metal or glass finish, the Robin is all about sharp angles and a matte plastic finish that's soft and doesn't feel plasticky.
The pastel colours, the mint in particular, gives it a slight toy-ish feel but make no mistake, the Robin looks quite unlike any phone around. Details such as the circular dual front-facing speakers and the power button on the right spine which includes a fingerprint sensor, elicited curious looks everywhere it went.
Nextbit Robin comes with dual front-facing speaker.
However, you're not buying this solely for the design. The Robin's big draw is that it's never supposed to run out of storage space. Sure,
you get the standard 32GB on board, but the Robin also ships with a 100 GB of cloud storage at no additional fee. This isn't cloud
storage like OneDrive or Dropbox, where you can upload files and retrieve them at will – it's meant only to back up your Robin's data, photos and apps.
Backups happen when you're plugged into charge and connected to Wi-Fi – photos and apps. When you hit a low-storage
threshold, Robin will remove the least used apps and full-sized photos from your phone, leaving behind greyed out icons and smaller images optimised for your screen resolution.
All it takes is one tap and the app and photos are downloaded back onto your device.
You can even "pin" your favourite apps so they'll never be removed. Beyond cloud storage, the rest of the Android 6.0 Marshmallow experience is largely untouched, save for a few subtle visual tweaks, like the theme colours and the launcher. The device also comes with zero bloatware!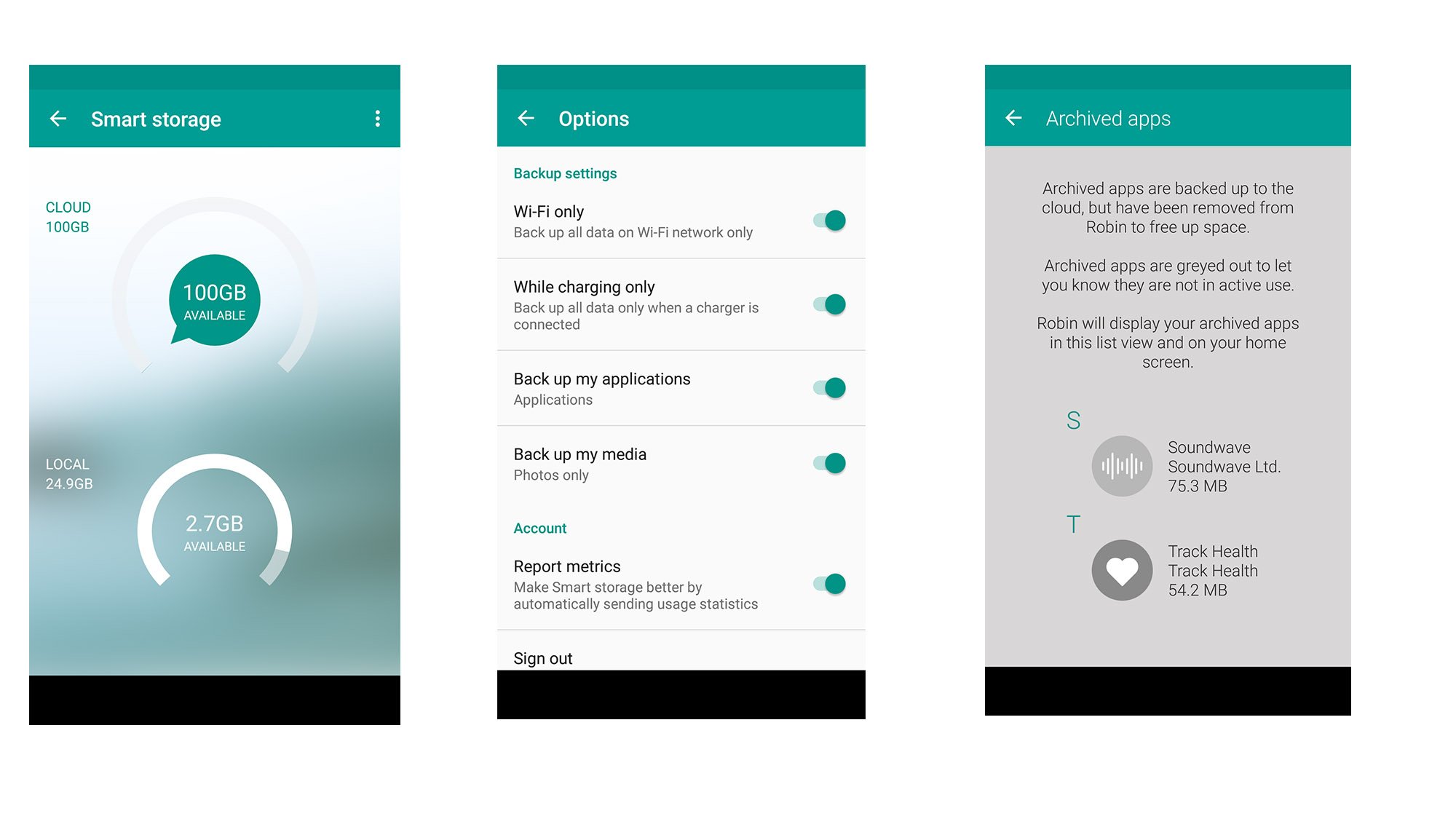 Nextbit Robin's interface.
Hardware wise, the Robin isn't going to be scorching any benchmarks. It comes equipped with a 5.2-inch full HD display that's
sharp but not the brightest, a Qualcomm Snapdragon 808 processor with 3GB and performs expectedly well for a mid-range smartphone.
The dual front-facing speaker setup is plenty loud too.
What's Bad?
As novel as the implementation of smart storage is, there are some significant gaps. First, it doesn't yet backup videos or documents, both
of which often consume far more space than photos or apps.
Also, let's say you're out and about and need an app that's been archived to
the cloud – it can take a while for it to be pulled down and reinstalled, depending on your mobile connection. Doing so on cellular internet will clearly
cost you money (or blow a hole through your monthly data limits)!
Nextbit Robin.
Power users will miss not having more control over the cloud storage – whether
it's to be able to force a backup or have more granular access to the files stored on the cloud. Finally, what happens if you're moving to another
device? It's not clear how you'd get your data that's on the cloud onto the next phone.
On a day-to-day basis, we didn't have any major complaints with the Robin, but the camera and the battery life could really do with some improvements.
The rear camera takes good photos in daylight, but is slow to focus, shoot and go from shot to shot in anything less than ideal conditions.
Nextbit Robin has a 2680mAh battery.
The 2680mAh battery can just about last a full day on moderate use, but if you're a heavy user, have a wall charger handy.
Why Buy It?
There are a few reasons to consider buying this device – youthful design, a refined user experience and if you really think you need it,
the smart cloud storage solution.
For most folks though, a microSD card slot would have made the device better, and most would have preferred a better camera
and battery instead of the marquee smart storage. It's certainly one of the more interesting ideas to come out in recent times, but it's not for everyone.