For your wedding to be as magical as you imagine it to be, you will have to endure the mundane processes before the very day—choosing your entourage, bridesmaids, bridesmaid robes, and all the other crucial aspects that complete a wedding. And there are more tasks to add to the list.
On choosing your bridesmaids, there's no hard rule to it. Most of the time, brides pick their sisters and relatives, but as weddings are usually a once-in-a-lifetime event, you might want to consider putting more thought into picking your A-team.
Bridesmaids will be the front liners on your day, so better pick the best people in your life. By now, you might have already a lot in mind—best friends, sisters, or other people dear to your heart—that it gets even more difficult to choose.
If you are already at that point, you are at the right place. We want to help you narrow your selection to make up your wedding day front liners. Here are some ways you can nail it with the picking:
Make a List
The number of people you might be thinking about can be overwhelming, so make it easy for yourself by making a list. Make sure they are the ones you really feel close to. You might have already in mind your close family members, relatives, or best friends. And while you might feel closest to your aunt or people much older than you, bridesmaids are usually around your age or younger, although it all depends on you.
Men Can Be Bridesmaids Too!
Do you have a male best friend or a member of the LGBTQ? There's no rule that says you cannot make one as your bridesmaid! Gender preferences don't matter; you go pick him if he is your ultimate boy BFF. Such a thing as a bridesman actually exists. Consider letting his freak flag fly free on your memorable day.
Set Your Expectations
Bridesmaids are not just for pictorials; they should be able ones to help you on your wedding day. Admit it, even now as you think about it, you are already having that wedding jitter. Or at least most soon-to-be brides get that, and the feeling gets worse when the most awaited day has finally arrived.
Your maid of honors and bridesmaids are not just there to rock their elegant satin robes nor to help you with your pre- or peri-wedding jitters; they play other roles too. They are usually the ones to organize your bachelorette party or bridal shower, help you on choosing your wedding dresses and gowns, and take care of other necessary tasks related to planning your wedding.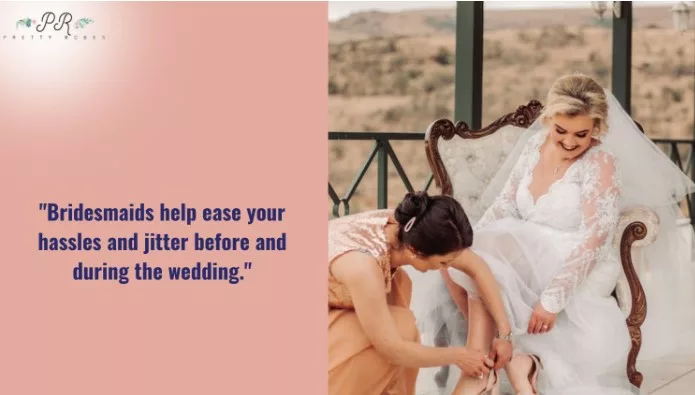 If you want your bridesmaids to do these for you, then pick the ones not just closest to you but are also capable of helping you make all the wedding hustle and bustle that fall on your plate. You would most certainly appreciate their help.
To Even The Number of Bridesmaids and Groomsmen or Not
Making the number of bridesmaids and groomsmen even is usually for the purpose of photo ops. Truth is, it depends on what you and your fiancé prefer as there might be circumstances that have to make you not stick with the norm.
Usually, soon-to-be spouses pick five people on average, but really, you can select more than that and as many as you wish.
Get into Terms with Their Availability
Sometimes, the people on your list may have very busy life schedules, such as work, family, and even juggling studies alongside, and as much as you think about picking them, there is a big possibility they can't make it for the role.
Especially if they are your closest ones, make sure to inform them you didn't choose them for the role for this reason and that you don't want to add more to their plate, certainly not because you don't hold them dear. Clear communication at this point is crucial to avoid anyone resenting you in the process.
Think About How Your Bridesmaids and Groomsmen Get Along
When you consider going all out in your wedding party, even including a bachelor and bachelorette gathering, you might want to look into how those people would get along. Bad terms with any of the bridesmaids or groomsmen may kill the mood of your day, so be sure to take this into account.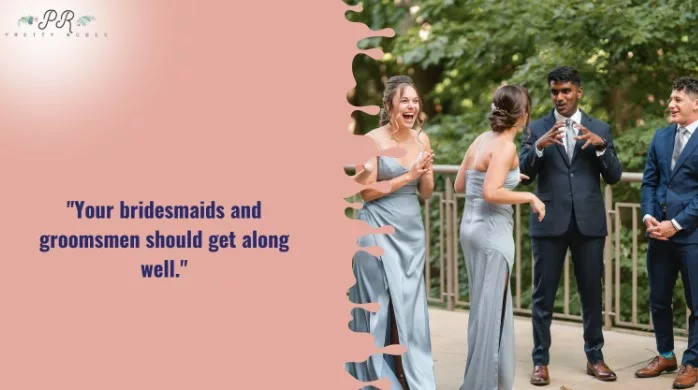 For example, one of your bridesmaids and groomsmen may have gone through a bad breakup. For sure, these two are highly likely not to get along on the main day. Put this into consideration when you are running through your list.
You Don't Have to Pick a Bridesmaid Just Because You Want No Drama
If there is anyone on your list who you pick just because you have to for fear that they will hold it against you if otherwise and may cause drama, then it's a glaring sign that you strikethrough their names on your list.
If anything, you deserve to be surrounded by people who really care about you and you are drawn out of love than fear on your very special day. Make sure the people around you are the ones who will really make you feel amazing on the most memorable event of your life.
Special Roles for Close Friends Who Can't Make It for the Role
Are there any close friends who, out of their busy schedules, could not make it to your wedding? Worry not as there are still so many ways you can honor them even when they can't make it for the role. If they are good at music, then let them play their instrument or sing at the reception. If they are good at poetry, then make them prepare a poem to read at your event.
You can even ask them out to help you on their available days for one of the most crucial decisions you have to make, such as your wedding gown, choice of satin robes for women for your bridesmaids, and other personal tasks. That sure will make them feel really honored, even when they can't be one of your bridesmaids.
Finalize
When you have finally narrowed down your bridesmaids' list, make sure that you are already certain about each one. Be intentional about who you really choose as front liners for your special event. Then, you can already send your "Will you be my bridesmaid?" offer, and get to the next steps, such as measuring the sizes for their robes and having an all-out bridal party.
While you can hand the wedding program and management to your wedding events planner, this aspect is surely not on their list. You will have to do the selection yourself. This and many others you have to think about can really be hassling but make sure to enjoy the process. Once you're on it and have chosen your bridesmaids, flower girls, wedding dress, and all, it all gets smoother in the end. Preparations can be tiresome, but don't forget to have fun!