User Generated Content or UGC has been making its rounds on content marketing because of the significant advantages that it brings to all sorts of brands without having to shell out a lot of money. UGC does not only impact social media. It can also make a big impact on your website. It can drive traffic, boost conversion, and retain customers. It is a really powerful tool that businesses should be using. In fact, it is more powerful than the traditional or a professionally written content.
Social interaction is important in today's world. People love it when they are able to voice out their opinions and they also appreciate it when the people who are concerned try to reach out to them. It's the same in building a brand. You have to listen to your customers and let them know that you are listening in order to build a community. UGC is a great way of interacting with your customers.
Here are some techniques on how to boost your brand and build a community using UGC:
1. Add star ratings to promote your products
Highlighting the products that you wish to promote and adding star ratings to them boosts the sales of your products. Visitors of your website tend to check out the products that are top rated and that have good reviews because it piques their curiosity and interest.
Individuals who do online shopping are always interested in the items that are new and top rated that they end up buying them out of curiosity.
When you wish to promote products, it's better to display star ratings alongside them. In this way, customers discover more highly rated products even before reaching checkout.
Increase the likelihood of buying the product by including the star ratings and the actual price of the product. If the products are on sale for example for a promotional offer, include the actual price and the current price.
Keds is a shoe company that produces sneakers for women. It displays the shoe collection on its homepage and each product includes a star rating that depends on the users' rating and reviews.
2. Display top-rated products on the homepage
Displaying products with 5 star ratings on the homepage influences the purchase decisions of the customers and increases the shopper trust in your products. Product ratings are considered as a measure of quality and most consumers rely on product reviews before buying a product. Shoppers are willing to pay more for products that are of high quality.
28% of female shoppers especially for those who are fond of online shopping tend to purchase products and spend more money after seeing good reviews.
40% of adults check for online ratings and customer reviews of products before making first-time purchases.
Almost half of eCommerce fashion shoppers say that missing reviews discourage them from buying products.
Urban Decay is a cosmetics company that has a page for the Best Sellers and the Highest Rated products that showcases the pictures of the product favorites alongside their star ratings and prices.
3. Show reviews on each product page
Aside from the ratings, customers also check out reviews of the products before buying them. Simply adding reviews to a product page increases the overall sales. Nowadays, customer reviews are more important than the product info.
92% of consumers check online reviews, 88% of consumers trust reviews as much as personal recommendations, and 72% of consumers will act only after reading positive reviews
The reviews don't need to come from celebrities or big influencers to be able to influence customers to buy the products. They should come from customers who genuinely want to review the products and spread good word about them.
In fact, you can also brand these reviewers to establish trust among your customers and to let them know that the reviews are authentic.
In the first example, one of the reviewers is branded as a top reviewer and both reviewers are branded as certified buyers which make their reviews believable and authentic.
Beauty MNL is a beauty and wellness company that features a separate page for the product reviews. It includes a certified buyer and top reviewer icon for each of the reviewers to let consumers know that their reviews are authentic.
Glossier is another example of a cosmetics company that features product reviews which includes personal information of the reviewers such as skin type and age range.
4. Feature customers' actual experiences on your website
Give your loyal customers a chance to be featured on spotlight. By doing so, you give them more reason for promoting your products on social media.
Adding customer stories, photos, or videos to emails or to your website is a great way for developing a community of loyal and engaged customers who are more than willing to spread word about your brand to their social networks.
GoPro does a great job in featuring actual customer experiences through stories, images, and films through their website. GoPro encourages its customers to submit photos or videos through their website.
5. Feature UGC images of your products on social media accounts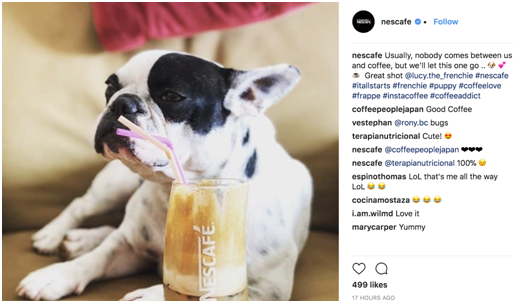 Having your own website and social media for your business go hand in hand. Having both help boost your brand and promote your products because of your wider audience. If your brand is already established, it makes a great impact when you create an engaging community through social media.
A lot of businesses hire professional photographers to take photos of their products. They spend a lot of money in having those photos taken, edited, and uploaded to their websites and social media. Why not try featuring photos taken by customers on your website or on your social media? You can still post professionally taken photos alongside featured posts of customers. It makes your website and social media more dynamic, appealing, and very interactive.
It adds excitement to customers when they see that their photos are being featured in a website or a social media account. It makes them want to produce more instagram worthy photos that can be featured and it allows them to share the content and spread the word about your brand.
Nescafe is a good example that features UGC images on its website and social media. Nescafe features customer's creative photos with their products on Instagram. Sharing these images on their personal social networks taps more potential customers who are friends of these featured users.
Using UGC really has a great impact in building a community around your brand. It's cost efficient and it's a win-win situation for your business and for the customers. Both parties benefit from UGC which is a good thing. Take note that customer satisfaction is essential for your business to survive and this is just one way of rewarding your customers for their satisfaction of your products. UGC is a great way of interacting with your customers and showing that you care and that you are listening to them.