False alarm – Robin Quivers isn't leaving the Howard Stern show anytime soon. 


Unfortunately, a lot of times you won't get attention if you're not misleading, and if you recall, Radar Online recently ran a story that Robin Quivers was planning to ditch Howard.
Sure enough, Robin was forced to dispel such rumors.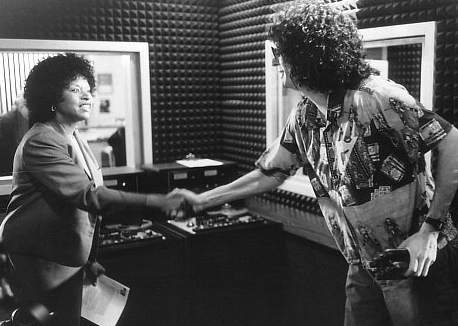 On closer examination, you could see how Robin was misquoted, but it did stir a little discussion between me and one of my Stern fan brethren, who believed Robin leaving would be a hit Howard wouldn't recover from, not to mention she could do her own show along with staying with Howard, like how Ryan Seacrest (I know, bad example) does a bunch of shows at once, and all you'd need is a disciplined schedule and a reliable limo driver.
Some of my Stern fan friends felt the show went downhill after Jackie "The Joke Man" Martling left, but Howard survived with Artie Lange as a fine replacement, and I hope he's one day well enough to return. (Funny enough, as much as I hated him when he was on the show, like Howard I also miss Eric the Midget.)
I also know I'd really miss hearing Robin's laugh, which is often the catalyst for Howard to be funnier, and those ridiculous parody songs about her boobs. (Some of which are actually funny.)
Whenever something's especially funny enough to make Howard and Robin laugh hysterically, it usually makes me laugh even harder. (It's especially great when you start laughing out of control at the same time as it hits Howard and Robin as well.)
Sure Howard could do the whole show himself and would still be funny, but he's always had a good team backing him up. 


Every ride has to end, and Howard said he doesn't want to be doing this in his sixties, which he'll be hitting in five years, but as Robin herself confirmed, she signed a five year deal too, and won't be going anywhere any time soon.