DC has confirmed that it will be resurrecting two comics classics this summer.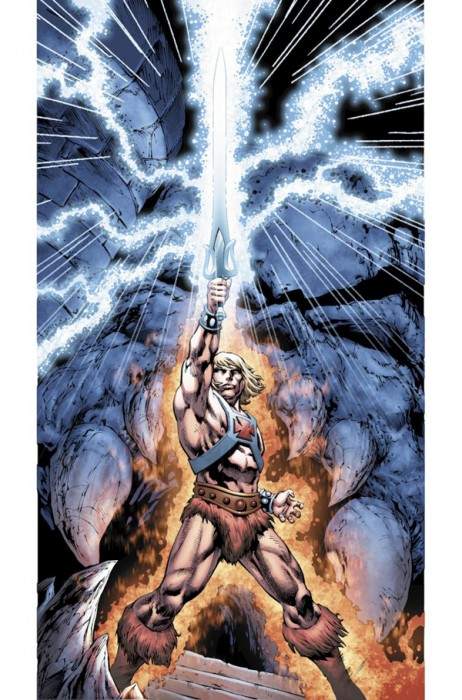 He-Man and the Masters of the Universe was a line of Mattel toys first produced over 30 years ago, spawning an animated series, a comics line and a couple of rather terrible film adaptations.
For the uninitiated, the story is actually about the young Prince Adam of Eternia, a fantasy realm of magic and odd technology. The prissy Adam uses his magic sword to transform into a more muscular, braver version of himself called He-Man.
He-Man and his friends, including his mentor, Man-at-arms, and his pet tiger who transforms along-side of him, are tasked with defending Castle Greyskull and its magical secrets from Skeletor, an evil wizard with a death's head under his purple cowl.
In the new 6-issue line, Adam and his friends recently fell victim to a terrible plot of Skeletor, who has magically rewritten Eternia's history to place himself on the throne of Greyskull. As such, The Masters of the Universe are exiles with no memory of their past lives, and no knowledge of He-Man. Adam is a peasant who, in the first issue, meets the sorceress, who teaches him about He-Man and his destiny.
Also beginning this summer is a DC resurrection of National Comics. This is a line of one-shots, similar to other non-protagonist lines, like DC Universe Presents. These lines run 4-8 issue stories for characters which don't warrant their own comics lines. This one would presumably tell stories with patriotic themes.
The first featured character will be Christopher Freeman (A.K.A. Eternity) a man who was was killed before his time, and returned to life with the power to revive other dead people for a short time, letting them work through unfinished business or avenge their own murders. In this iteration, his job as a coroner helps him accomplish his goals.
DC has also confirmed that future stories in the line will include Madame X, Looker, and Rose and Thorn. These are all characters from the darker side of the DC Universe, which makes one wonder why they chose to stick them in National Comics, and if the theme will hold.
Both He-Man and the Masters of the Universe and National Comics are slated to kick off July 2012. Note:He-Man is only planned to run until the end of the year.