According to the American Non-profit Organization "", by 2017 about 250 000 000 people are expected to access mobile adult content from their phones or tablets. Also, the stat affirms that 1 in 5 mobile searches are for pornography. Pew Research Center adds as well that 3 out of 4 kids have access to a smartphone in America. There is probably no need to mention that all of the content can be accessed by kids as well.
The market is full of parental control apps from big ones to baby companies, which, however, still leave parents confused. Before choosing an app, a parent should consider two main factors: respect of the kid's privacy, built on a constructive dialogue, and safety. That was the conception of the release of the brand new parental control app .
What is Kidgy?
Kidgy is a powerful and helpful tool in parents' hands to supervise their kids' online activity and, thus, create a safe online environment for them. The fact is that parents cannot isolate their kids from using the Internet, but they can create a healthy, useful for their mental wellbeing space, which assumes entertaining as well as educational purposes.
The apps' goals are to boost generational dialogue, smooth technological approach differences, and contribute to partnership collaboration between parents and kids. Parents shouldn't be perceived as evil strict supervisors, but as caring and supporting partners in a growing-up process. From the practical point of view, it significantly saves parents' time and serves as a family assistant rather than a parental control tool.
What does Kidgy do?
The app helps you to lead an effective parenthood. From now on, you know where your kid is both online and offline, are aware of their devices' usage and their interaction with people. Moreover, it helps you assign tasks, watch over their completion, come to rescue if a kid gets in trouble, get the insightful information you might not be able to get to know. Let's have a look at how Kidgy may help you in your daily life.
Location tracking.
No matter where you are and how busy you are. You don't have to make embarrassing calls, especially if your kid is a teen who cares about their reputation at school and among friends. The GPS Location Tracker allows you to monitor the current place of a child.
By the way, you may discuss areas you don't want your kid to breach. Then you put a barrier in a virtual map (geofencing). Once it's crossed, you get an alert via email or text message. Also, your child may press a Panic button if they feel they are in danger but cannot call you. All they need to do is press Panic Button on their phone which immediately sends an SOS message with precise location of your child.
Blocking options
The app allows you to monitor the contacts list. If you see some relationships became toxic, you can block the contact and discuss the nature and possible outcomes of this communication with the kid. Again, this builds trust between you.
You may also supervise and block installed apps. There are so many apps which literally give away your kid's personal data to online predators as well as promote gaming addiction, racism and violence. So it's parents' responsibility to take care of that.
Internet browsing
The app has an advanced Internet filter which does not allow your kid to surf sites which you deem inappropriate. Besides being aware of the sites' content, you may block them completely. Knowing what nurtures your kid's mind is very important, right?
Time limiting
School is above all. But kids might be so attracted by those colorful apps, so they may spend tons of time for them. This is where a Time Limiting feature comes in handy. Whether it's a bedtime or a school time, you can always refocus your kid's attention by limiting the Internet usage.
Socializing monitoring
You may read any text messages, even dated a week ago. Deleted SMS are also not a secret to you. Speaking of calls, you can see who called your child as well the timing of the call and the exact number.
Scheduler
Another good thing for parents who want their kid to improve school performance. You can set a task and see it to completion with your kid. This is a great approach to teach accountability, responsibility, and diligence. This feature enables parents to cultivate a favorable educational process where subjects are not deemed as hardships but as an integral part of a normal intellectual development.
To put the cherry on top, a parent may have a Family Report which may say so much about the kid's hobbies, interests, inclinations, etc. This info may serve as a subject to prevent or to support the kid in their daily life. Sometimes parents don't know their kids as good as they would want to. So here's a good chance to view some regularities and, thus, make some useful conclusions about your own child.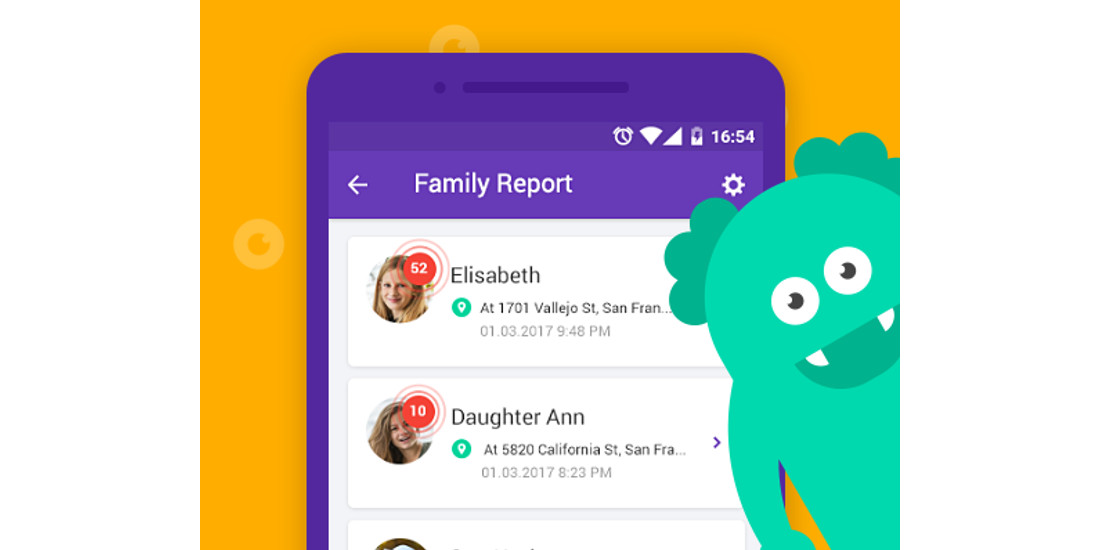 Of course, there are pros and cons of the Internet, but kids will use it anyway. Instead of confronting it, Kidgy may contribute to its safe use and favor kids' intellectual development, whereas saving time and efforts for needless and annoying check-ons.