This aerodynamic turning power charger is shaped like a softly falling drop of water.
Now, as we've confessed before, we loves us some kinetic gizmos here at EarthTechling.
But we've also come to believe that designers are even more partial to these energy-producing devices, turning out super-elegant concepts that are as charming for their beauty – remember the kinetic pinwheel? – as they are for their potential to provide power.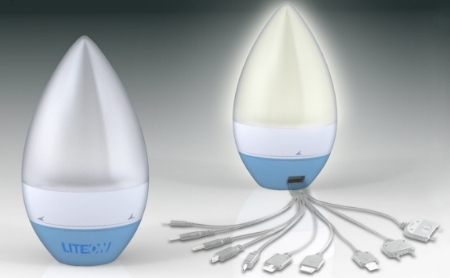 Cindy Karimun's take on a portable charger sure fits into that category. Her Turning Power Charger is shaped like a drop of water.
Or is it a somewhat-pointed egg?
No, it's a water drop, Karimun explains, representing "a clean and essential thing to human and environment as well as other life forms."
As tends to be the case with kinetic-energy gizmos, operation of this charger is designed to be simple: while holding the base, turn the top of the water drop clockwise until you can't turn anymore.
Release.
Karimun imagines LED lights inside the transparent polymer casing lighting up while in charging mode, then turning off automatically when the built-in battery is fully powered. The energy is then accessible through a USB port.