Volvo is turning up the volume on what looks to be a pretty loud launch of its new plug-in hybrid diesel. The company said it would display the car at the Geneva Motor Show in March, and dropped some tidbits of info about the vehicle.


Now we're getting more details about the V60 Plug-in Hybrid, which Volvo says integrates "the very best properties from three different car types into one, single attractive sports wagon."
Volvo breaks down these three car types – or "temperaments," as it also calls them – as Pure, Hybrid and Power, which the driver can choose "via three buttons on the instrument panel."
From there, the car takes over.
If the driver has chosen Pure, the car stays in electric mode as much as possible, with a range of around 32 miles.
In Hybrid mode, the V60 Plug-in Hybrid acts like a standard hybrid, striking "the optimal balance between driving pleasure and low environmental impact" and extending its range to more than 750 miles.
And power?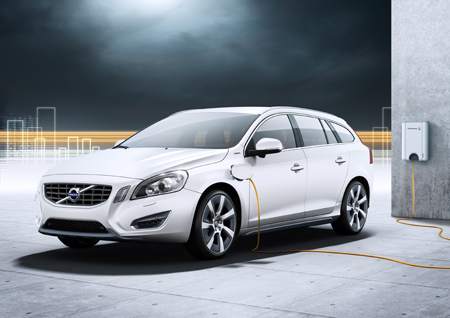 Here the car's brain tilts the car away from green ideals and moves toward performance.
"The diesel engine and electric motor have a combined power output 215 + 70 horsepower and maximum torque of 440 + 200 Nm," Volvo says. 


"The electric motor's lightning-quick torque delivery contributes to the car's 0 to 100 km/h acceleration time of 6.9 seconds." 


Not Tesla Roadster-like, but pretty good for a wagon. And a hybrid one at that.



* Pete Danko, EarthTechling