Much has been made recently about electric vehicle charging stations and attendant public infrastructure – but what about all of our power-hungry gadgets?


Sure, we won't be stranded if they run out of juice, but the results could be just as distressing for today's hyper-connected individual. Why not create a network of public solar chargers that double as park benches?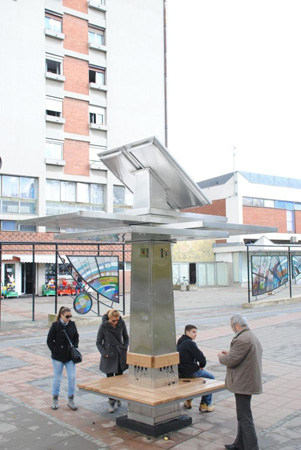 That's the idea behind the Strawberry Tree, a prototype design that was recently nominated for the European Commission's prestigious Sustainable Energy Europe Award 2011. 


According to Ecofriend, the Strawberry Tree is the brainchild of a group of Serbian student-entrepreneurs known as Strawberry Energy. 


It is described as a booth, essentially, that integrates solar panels at an optimum angle on its roof to provide juice for a number of outlets accessible via a single pillar that features built-in benches for lounging and chatting while waiting for your phone to power up.
The booth can power mobile phones, cameras and even MP3 players, and does so even on overcast days and at night, thanks to its centralized battery system. 


Strawberry Energy plans to build on this design by including Wi-Fi features, as well as by manufacturing portable versions of the Strawberry Tree that will be suitable for large public gatherings.