Racing electric vehicles – cars, motorcycles, scooters – continue to grow by leaps and bounds with new technology, new speed records and new racing opportunities.


Recently, the EVCUP, the world's first zero emission racing series, announced plans for its iRacer prototype.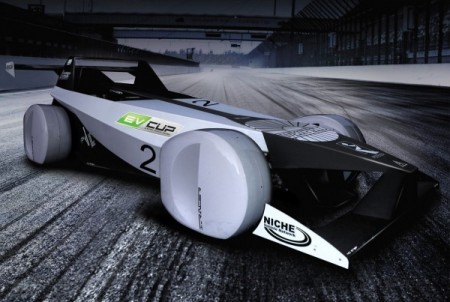 While the iRacer will get its official unveiling at next month's EcoVelocity low-carbon motor festival at London's Battersea Power Station, images of the futuristic electric vehicle were recently released.
The images depicted a sleek, low-slung ultra-modern race car with aggressive styling, strong lines and an angular aesthetic. The car was styled by designer Elliott Hawkins from the Royal College of Arts. 


Partners in the EV's construction include Westfield Sportscars, Potenza Technology, Delta Motorsport, RDM Automotive, and Coventry University.
According to officials at the EVCUP, the iRacer is a track-focused race car. It was designed and engineered from the ground up for one purpose: to go fast. The iRacer will compete in the 'Sports EV' classification of the series.

The EVCUP starts in the United States this November, with two race events in California, the first at the Mazda Raceway Laguna Seca on the 26th November and the second at Auto Club Speedway on the 17th December before a full series launch in 2012.