Can a skateboard really qualify as a viable long-distance source of transportation?
Perhaps the answer is 'yes,' if that skateboard is a powerboard, the electrically souped up model available from E-Glide Powerboards.
If this sounds at all intriguing to you, E-Glide would like you to know that "the world's most powerful electric skateboard/powerboard," also known as the $929 E-Glide A/T, can help you cover up to 25 miles (with optional lithium battery), whether on city streets or dirt roads.
Ten inch pneumatic tires jack up this "aluminum decked transportation machine," making you the king (or queen) or the road.
Top speed, with optional components, is 25 miles per hour, which is a little over the 23 MPH of the GI Powerboard model we mentioned earlier this year.
E-Glide promises that this bad-boy will scale almost anything, and allow riders to transverse, rough, broken surfaces "at speed."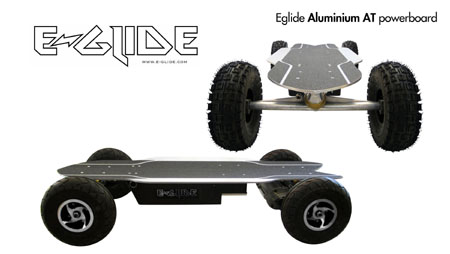 The company's full range of powerboards are built with high-end European electronics and assembled at the company's factory in skateboard country, USA–a.k.a., Santa Monica, California. E-Glide is the sole U.S. producer of electric skateboards.