Nissan has released pricing, fuel economy and hybrid system information for its newest hybrid the 2014 Pathfinder Hybrid. We will detail the basics of the first two, but include for you full detailed information from the Japanese automaker on what makes the hybrid drivetrain in this SUV tick.
Pricing will start at just over $35,000 for a two-wheel drive Pathfinder Hybrid, ranging up to over $44,000 starting for one with the top of the line trim that is four wheel drive. Fuel economy hasn't changed much since Nissan first debuted this model back in late March. What you get is 26 MPG combined/25 MPG city/28 MPG highway (27 MPG 4WD). When one takes these numbers into account, as well as the vehicle's 19.5 gallon fuel tank, it is estimated to have a driving range of at least 546 miles.
As for the hybrid system, here's what Nissan had to say about a drivetrain that works with a range of downsized internal combustion engines, an advanced "Xtronic" CVT (Continuously Variable Transmission) and a compact Li-ion battery system:
Compact and adaptable to vehicles of any size, the new FF-Hybrid powertrain achieves smooth and direct acceleration, excellent fuel economy and it significantly narrows the price premium over conventional internal combustion engines.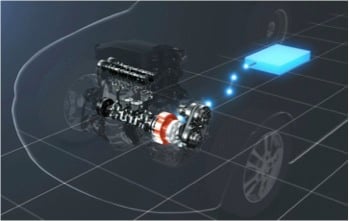 As with the FR-Hybrid, the FF-Hybrid utilizes the unique one-motor, two-clutch configuration known as the Nissan Intelligent Dual Clutch System. The electric motor is linked with a Lithium-ion battery. Positioned between the gasoline engine and the Xtronic CVT® (where the torque converter would normally be), the motor also functions as a generator, conveying energy from the CVT to the battery upon deceleration. As for the two clutches, one is installed between the gasoline engine and the electric motor, the other between the motor and the CVT.
When both clutches are engaged, the engine and electric motor connect directly to the CVT, allowing the electric motor to augment torque from the engine as required. This creates the potential for powerful acceleration.

The high input/output Li-ion battery is automatically topped up by regenerative power from the brakes by converting the vehicle's kinetic energy otherwise lost in braking.
FF-Hybrid system for 2.5L, supercharger

Pairing this battery with a smaller engine than conventional gasoline vehicles, closely integrated with an electric motor and CVT, results in a highly compact and cost-effective package that can be adapted for use in a range of applications.
"The new system used in the 2014 Pathfinder Hybrid serves as the natural evolution from conventional internal combustion powertrains to the wider adaption of hybrid systems," said Nissan North America, Inc. Vice President, Product Planning Pierre Loing, in a statement.