Did you know that some research shows just looking at trees improves our health? It's also been found that just spending time in a natural environment, i.e. in the presence of plants, trees, and animals, can reduce blood pressure and extend our lifespan.
As more outdoor green space is sacrificed to buildings and parking lots, we've got to get creative about bringing plants and trees into other parts of our lives.
LivePlant is a new way to bring living plants into an office environment without floor-cluttering pots or bulky windowsill containers. The work of a New York-based startup called Suite Plants, the high-end, low-maintenance garden that hangs on the wall like art. It's a perfect concept for offices, hotel lobbies, restaurants and luxury homes that want more green without a lot of extra work.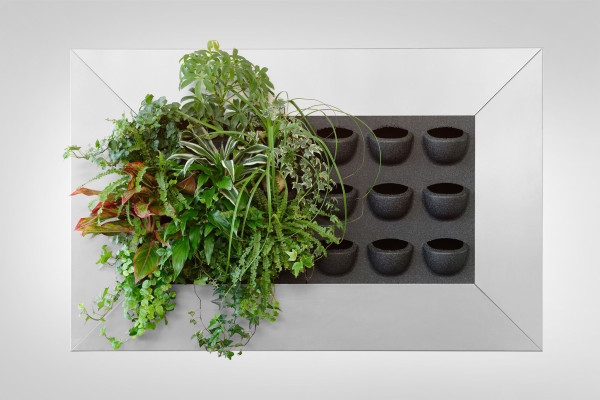 I know what you're thinking, "Oh it's another vertical garden design," but LivePlant is different. For starters, it's not a permanent part of the wall. Many indoor vertical gardens are built right into the architecture, making them impossible to move if interior needs change.
Installing a LivePicture is as simple as hanging a framed painting on the wall (and it's just as easy to move). Just add water once every four to six weeks. The unique living art is available in two sizes, the RemPlant, which is 44.3 inches x 28.5 inches and weights a total of 77 pounds when fully watered. The VanGrow is smaller and lighter, at just 28.5 inches x 28.5 inches and 55 pounds when watered. The powder coated steel frame is available in silver, white and charcoal colors.
For those looking to change the plants on a seasonal basis, LivePicture's interchangeable plant cassettes easily snap in and out of the frame. According to SuitePlant, the entire product line is manufactured in Holland using recyclable materials.