The recently completed Interbike trade show in Los Vegas, Nevada showcased many related personal mobility offerings. One of those drawing some attention from the more technology focused lovers was Shanghai New Century Robot which, under its X-Robot label, showcased a two-wheeled transporter known as the i-Robot SC.
This company, as noted by Technologic Vehicles, has in a way developed a knock off of the original Segway idea, which combines a stand up, electric vehicle design with controls based upon the direction in which you naturally move your body. That's about where it ends though, at least by X-Robot standards, as the i-Robot SC aims to take the original concept and move it forward a little more.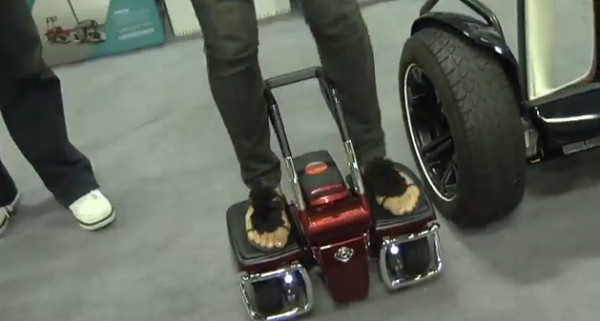 The i-Robot SC is a two wheeled, self balanced EV that's controlled through "a built-in gyroscopic system to give the rider greater control." Powered by a lithium battery, it can go a maximum speed of 10 km/h (6.2 MPH) and has a maximum riding range of 20 km (12.4 miles). What's of particular interest to note around this model, according to the video below, is that the pictured handle is more of an after thought and not something you really use to steer. Instead, you just use your natural body motion, freeing your hands so "that this vehicle and you become one." Should you not wish to become one with the asphalt, however, there does look to be an option for installing a clip handle so there is something at least to hold on to while you learn.
Features of this little electric ride seem to include a one-touch auxiliary brake, multi-language human voice alarm, embedded headlights, a brake warning light, LED steering lamp, RFID security systems and more. As for pricing and availability, there was not immediately clear indication of how you might be able to get hold of one outside of China. They do look to be customizable on colors, however, so should you at least find one somewhere you may have a nice selection of palette choices to consider.