What if, instead of installing gadgets and systems that create a smart home after the fact, we built them into the initial design? That's a question that will soon be answered by an entry into the 2013 Solar Decathlon that has been nicknamed "EcoHabit."
Designed by students at Stevens Institute of Technology in Hoboken, New Jersey, the house comes complete with a "central brain" that can predict the home's optimal energy levels based on inputs such as the weather forecast. As the only team representing from the Metro NY region, the Stevens crew is working around the clock in the sweltering Northeast heat to bring their design to life.
"Our home redefines the relationship between a home and its user," writes the student design team on the project's official website. "Ecohabit creates a new mindset of interaction between a house and its user, their patterns, building systems and its regional climate. This enables the user to cohabit with the house, learning from each other to create a more energy-efficient, sustainable life."
Creating a house that uses its own intuition to adapt to the external environment is no easy feat. It requires significant knowledge of smart home technologies, as well as the skills to install them properly–both of which the Stevens team has.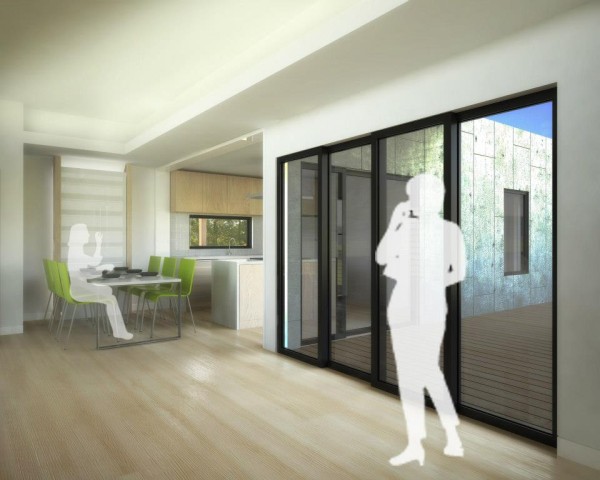 A few highlights from the EcoHabit:
Green wall and

green roof technology, both of which are covered by living plants and growing vegetation. The benefits of this technology include reducing rainwater runoff, creating heat insulation, and improving air quality. The flora in EcoHabit helps to reduce air pollution and promotes important ecological functions such as pollination, decomposition, and pest control.
The house is split into dry and wet modules, minimizing the distribution of plumbing. The dry module walls are constructed with "phase change" material that allows the house to harness the

sun's energy and heat during the day and release it into the house at night to maintain a constant temperature.
Smart Sensors that allow the house to compile data from its inhabitants and the exterior environment and adjust accordingly to provide the most efficient levels of operation at any given time. These sensors also have the ability to provide the homeowner with

hot water on demand

when it is needed, ensuring that no energy goes to waste by unnecessarily waiting for the water to warm.
Currently, the students are building the home on the Hudson River in the shadow of the New York skyline. The house will soon be completed and tested for competition. Then it will be disassembled and taken to the Solar Decathlon competition in California for judging in October.