Living in a genuine big city for the first time, I've come to appreciate the beauty and significance of a skyline.
Say what you will about skyscrapers, they are a city's calling card. Unfortunately, many modern skylines are marred by clouds ofpollution: brownish smog that rises from the roadways to linger in the lower atmosphere. But what if these iconic skyscrapers could be part of a solution?
Royal College of Art graduate Chang-Yeob Lee recently published a concept for turning skyscrapers into giant air filters. In his design, one of London's most recognizable buildings, the BT Tower, is transformed into what Lee calls "an eco-catalytic converter", scrubbing toxins from the air and converting them into biofuel.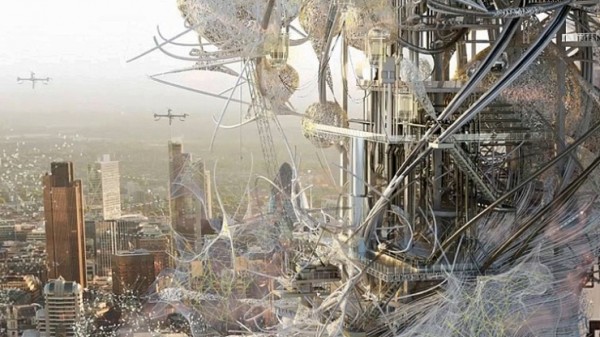 The fundamental idea behind Lee's design is that pollution, while an unfortunate byproduct of human development, should not be allowed to go to waste. "Pollution is nothing but the resources we are not harvesting. We allow them to disperse because we've been ignorant of their value," Lee tells Dezeen, referencing Buckminster Fuller. "Pollution could be another economy".
To that end, Lee created Synth[e]tech[e]cology, a pollution-harvesting infrastructure that could be retrofitted to the building's exterior walls. The intricate lattice would wind around the building in such a way as to take advantage of wind patterns. The structure would help trap carbon from car fumes as well as other airborne contaminants. The collected pollutants would then be recycled as fuel.
"The project aims to show how hybrizided new infrastructure can gather pollutants, store, digest, and harvest them to dilute minerals and biofuels, celebrating clean air process on the ground level," writes Lee. "The ultimate ambition of the project is to be deployed as a retro-fitting strategy to tall unused or derelicy buildings in London, showing that alternative routes to 'economic profit' meaningfully engaged into pollution can be a provocative strategy for 'sustainable ecology'."
As Dvice points out, the most exciting part of this concept is that it appears to be based upon promising existing research and technology. Meaning that Synth[e]tech[e]cology has a better chance of becoming reality.