Electric bicycles, despite being a very green form of personal transportation for those who can't live without some type of motor assist, can still sometimes run into the same problem electric cars do when it comes time for charging.
Indeed, their internal batteries are often plugged into the grid and replenished via electricity likely at least touched by dirty energy sources. One possible solution to this is hydrogen fuel cell powered bikes but, until recently, it had been years since we last heard about something like this under possible development. Now a new consortium of companies in Europe is pushing to bring one such bicycle to market.
The Gitane Alter Bike is the result of a collaboration between three French firms – Cycleurope, a designer, manufacturer and distributor of bicycles; Pragma Industries, developers of hydrogen fuel cells said to be particularly suitable for portable applications and electric mobility; and Ventec, which makes a battery management system for lithium batteries. Their creation was recently unveiled at the 20th Congress of "Le club des Villes et Territoires Cyclables" in Nice, and it is hoped to be in the hands of the general public by 2016.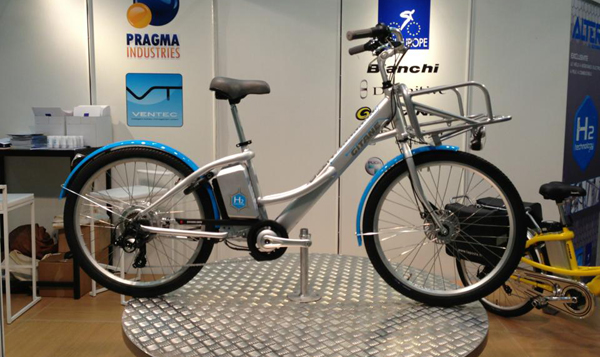 There's not a lot of technical details at this point on the Alter Bike concept. What is known is one powers the electric bike via replacing "ready-to-use" energy cartridges the rider likely has on hand. It is noted as well that "due to to this new technology, the range flexibility of the electric bike adapts to the user requirements in a clever way. Each fuel cartridge conditions the distance and therefore the user takes the necessary quantity depending on the daily trip."
To develop such fuel cell vehicles, those in collaboration have had to cook up a number of interesting technological solutions, including "a new breed of hydrogen fuel cells, hydrogen chemical storage in recyclable canisters, as well as hybrid electronic architecture balancing power needs between the Li-ion battery and the hydrogen fuel cell."
As you can see from the pictures above the current bike design, because of the fuel system, looks a little clunky and is likely heavier than your average electric bike. Bike Europe, which spoke with those behind it, was told the idea is solid though and that the Alter Bike will likely first be used at public rental locations, debuting at "several pilot programs in France," before its projected release date. It is a fascinating idea and one we will be watching to see if it actually happens.