The UN climate change talks in Doha have ended with a commitment from developed countries that they'll help pay for the costs of climate change for poorer nations.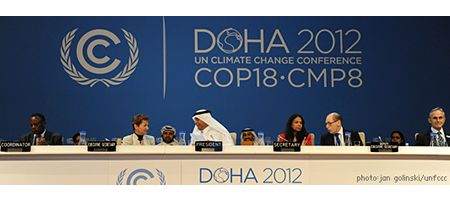 However, what exactly this will entail is unclear, and there's disagreement about whether the funds should be disbursed by a new body or by existing institutions.
Countries have agreed to extend the Kyoto Protocol, with a new treaty due to be signed in 2015, coming into effect five years later. However, Russia, Japan and Canada have now withdrawn from the agreement, while major polluters such as China, India and the US are not covered by the protocol.
"Doha has opened up a new gateway to bigger ambition and to greater action – the Doha Climate Gateway. Qatar is proud to have been able to bring governments here to achieve this historic task," says Conferences of the Parties president Abdullah bin Hamad Al-Attiyah.
"I thank all governments and ministers for their work to achieve this success. Now governments must move quickly through the Doha Climate Gateway to push forward with the solutions to climate change."
The US fought strongly against proposals to compensate poorer nations – and particularly against the use of the word 'compensation' as this could imply legal liability. Instead, the fund will use the word 'aid'.
However, some $100 billion is to be set aside for this, with Germany, the UK, France, Denmark, Sweden and the EU Commission announced concrete finance pledges of around $6 billion by 2015.
One glaring issue for the talks was the growing gap between what countries commit to do in terms of emissions and the actual amount of greenhouse gases in the atmosphere.
Executive Secretary of the UN Framework Convention on Climate Change (UNFCCC) Christiana Figueres urged nations to put their promises into action.
"Doha is another step in the right direction, but we still have a long road ahead. The door to stay below two degrees remains barely open. The science shows it, the data proves it," she said.
"The UN Climate Change negotiations must now focus on the concrete ways and means to accelerate action and ambition. The world has the money and technology to stay below two degrees. After Doha, it is a matter of scale, speed, determination and sticking to the timetable."
The next major UN Climate Change Conference – COP19/ CMP9 – will take place in Warsaw, Poland, at the end of 2013.