German automaker Porsche is responsible for some of the most iconic sports cars ever designed, including the venerable 911 and other notable vehicles for both the street and the racetrack.
As you may recall, Porsche recently showed off its 918 Spyder concept car which boasts sexy good looks along with a very powerful green drive train.
At first, the 918 was a concept car, yet Porsche subsequently confirmed that it would be building a production version to sell at just under $900,000 per unit.
Typically, Porsche doesn't give previews of vehicles until they are very near complete and production ready. However, Porsche recently invited members of the press to test track in Nardo, Italy for a ride along in what appears to be a cosmetically rough 918 prototype.
The body of the vehicle looks like something between a Carrera GT and 911. The car wears a number of 911 body panels and has exposed tubing and components. Yes, the prototype is very far from what the production vehicle will look like, but the powertrain in the prototype is expected to find its way inside the production cars when they hit the streets.
The powertrain uses a 4.6-liter V8 engine that produces 570 HP on its own.
In addition to that level of V8 power, the 918 also boasts a pair of electric motors.
One is a 90-kilowatt unit that sits between the engine and the seven-speed transmission, while the other is an 80 kW unit mounted to the front axle. The smaller 80 kW unit drives the front wheels and allows the car to be all-wheel drive. The total power output is 770 HP at 9000 RPM with 553 pound-feet of torque.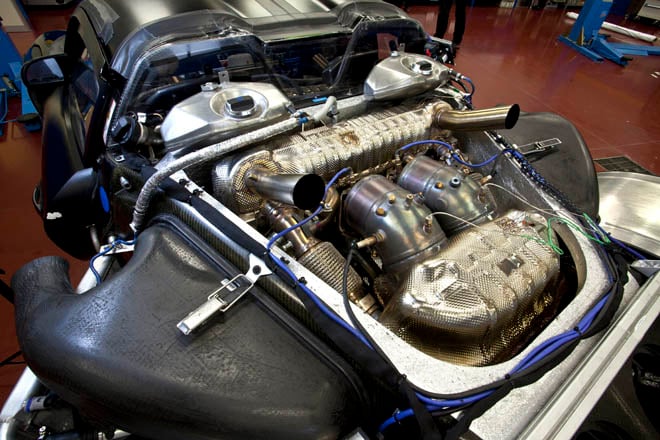 On the track, the 918 Spyder will feature a special hot lap mode, generating 700 pounds-foot of torque in a third-gear.
The car will also be capable of going from 0 to 60 in less than three seconds, while hitting 124 mph in less than nine seconds.
The top speed is estimated to be about 202 mph, and the car can reach 90 mph on battery power alone. The all-electric driving distance for the car is 16 miles. Wired reports that the battery pack is a 6.8 kWh unit that charges in about six hours on a 110 V outlet. A Porsche quick charge system will be offered to charge that battery in two hours. The car is expected to achieve about 78 miles per gallon on the combined European rating system.