Telsa Motors made automobile history with the release of their Roadster, a $109,000 electric sports car. Not only was the Roadster the first highway-capable all-electric vehicle in serial production available in the United States, but it could really move.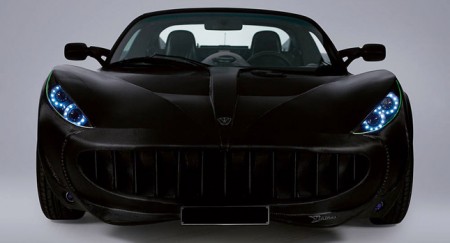 Capable of more than 200 miles on a charge the Roadster made 250 horsepower and 200 foot-pounds of torque on the way to a neck-snapping zero-to-60 time of under four seconds and a top speed of 125 mph.
What most folks didn't know about the Tesla was that it was built upon the body of a Lotus Elise sports car. The English-made Lotus was released in 1996 and features a hand-finished fiberglass body shell atop its bonded extruded aluminum chassis that provides a rigid platform for the suspension, while keeping weight and production costs to a minimum.
That light chassis and frame has proved almost irresistible to electric vehicle makers searching for a sexy, high-performance base upon which to build their cars. So far, the Elise platform has be selected by Dodge for Circuit EV; the Rinspeed sQuba (which can also travel underwater!); and the Opel Eco-Speedster Concept.

Now, another high-end auto maker is set to release its own Lotus-based EV. Germany-based PG, already known for its its lightweight carbon fiber framed electric bicycles, teamed with automobile designer Michael Fröhlich to present the PG-Elektrus, a mean-looking, black matte two-seater with enough carbon fiber and composite to construct a stealth fighter.
PG hasn't yet revealed many of the car's performance specs yet, but from what's been released so far, we can surmise what PG is aiming for: light weight and high speed.
Weighing in at under 2,000 pounds, the PG-Elektrus features an electric motor capable of producing a robust 270 horsepower with 258 lb-ft of torque—numbers on par with the Tesla. 

Off the line, the PG-Elektrus can really fly. The company says it can sprint from zero to 62 mph in under three seconds on it's way to an electronically limited top speed of 155 mph. That's quick—even quicker than the Tesla, which is no slouch when it comes to acceleration.
PG says their new EV will have a range of about 215 miles on a full charge. The car's battery pack can get a boost from a solar panel on the trunk. Expect a full charge to take up to eight hours on a 220-volt plug.
Drivers will be able to switch back an forth between a standard automatic transmission or a stick shift. And, depending on your mood, you'll also be able to select your own engine sound, either a throaty V8 growl or a high-pitched Formula One whine.

If you want one, you'd best get your order in. PG says they're only going to make 667 of the cars. However, availability may be the least of your problems. According to a report at thechargingpoint.com, expect to fork over about $370,000 for you own.