Most of the attention paid to Volkswagen at this year's North American International Auto Show in Detroit will be directed toward its new, irresistible electrified E-Bugster concept. 


However, the German automaker is also set to introduce a seriously sporty new Jetta Hybrid set to go head-to-head with the Honda Civic Hybrid and the segment leading Toyota Prius.

The Jetta is VW's second hybrid, following the Touareg Hybrid SUV, released in 2011.
And while this new hybrid has a been smartened up a bit on the outside with the addition of new rear spoiler, low-rolling-resistance 15-inch alloy wheels and a LED running lights, it's not the window dressing VW is touting, it's the guts. 


The hybrid Jetta features a turbocharged (yes, turbocharged in a hybrid!) 1.4-liter, four-cylinder gas engine that generates 150 horsepower.
The blown four-banger is matched to a 27-horsepower electric motor all powered by an 80-pound, 220-volt, 1.1 kWh battery stowed behind the rear bench seat. 

The battery features its own management system that performs safety, diagnostic, and monitoring functions as well as temperature management.
Regenerative braking is also employed to increase battery efficiency and excess power from the engine can be used to charge the battery via the electric motor, which acts as a generator in this case.

 VW calls these "active charging phases" which are interspersed with electric driving phases to realize the optimal fuel economy.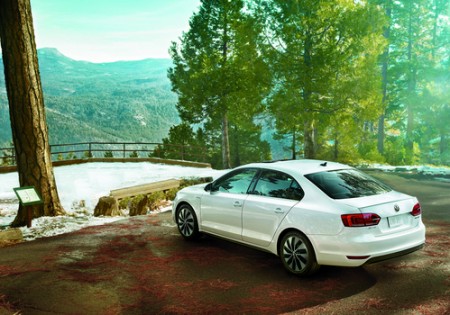 A seven-speed automatic is also able to decouple the gasoline engine from the drivetrain when in pure electric drive or "coasting" modes. 



With this powertrain Volkswagen says the front-wheel drive Jetta Hybrid can go from zero to 60 mph in less than nine seconds. If you value pure economy over speed, there is an electric-only E-mode that will propel the new Jetta for up to 1.2 miles and a maximum of 44 mph.

Aside from performance, the new VW hybrid is also boasting some impressive fuel economy numbers as well. The company estimates that the Jetta will turn in a EPA combined rating of 45 mpg. That beats the 2012 Honda Civic hybrid's rating by one mile per gallon. By comparison, the regular gas Jetta gets combined gas mileage of 25 mpg.
Inside, the new Jetta features six airbags, Bluetooth technology and a digital display showing drive mode, energy consumption and other power-related stats.
Jetta has yet to release pricing info (but look for a sticker price between $25-30,000) but does promise the new Jetta will be in dealerships in the North American market at the end of 2012.