It's the first golden age for electric motorbikes. As technology improves by leaps and bounds, more and more models are hitting the market every month. 


Consumers can now choose from electric superbikes, sport bikes, scooters and street bikes. Now they've got one more option: an electric, classic-styled retro cruiser.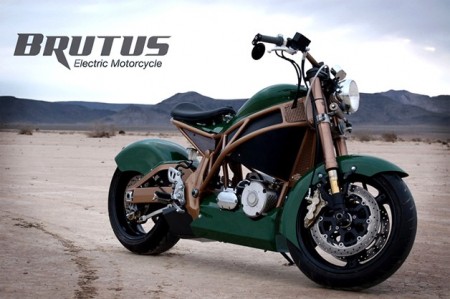 Chris Bell, owner and chief designer of Brutus Electric Motorcycle, recently unveiled his company's first model, the Brutus. 

Bell originally conceived, designed and manufactured the Brutus in his garage, but the bike proved so compelling he decided to go into mass production. First models are expected to be available in January, 2012.
What's immediately striking about the Brutus, which we learned about from Green Autoblog, is its sweet, classic styling, recalling the seductive, graceful lines found on Indian and Harley Davidson V-Twin cruisers of the 1930s and 1940s. 


Even more appealing for traditional bike fans is that, unlike most electric bikes, the Brutus utilizes a conventional five-speed transmission to channel power from the lithium-ion battery pack.
The bike has some thoroughly modern proposed performance specs. The stock Brutus will have a 100 volt battery with a top speed of 100 MPH and a range of 60 miles. 

An optional upgrade to a 144 volt power plant will boost speed to 125 and a range of up to 100 miles. 


Pricing information has yet to be released.