If you have an iOS device, then you are familiar with the trials and tribulations of trying to transfer files to and from your device. Apple has given us iTunes to handle all these problems but let's face it: iTunes is much too complicated a program to use for most Windows people. One of the chief issues pretty much all Apple device users face is the sheer complications involved in operating the devices. This includes transferring data into the device from another device like a laptop or transferring data from the device into another one.
But I, as a part-time hybrid user, personally prefer alternatives. One of the best iTunes alternative is maybe WinX MediaTrans. It is way easier to use as Apple's native solution. You can transfer and backup your iDevices files with the same ease as with Windows PCs.
The software is free to use and has a lot of plus points, and extras, compared to the competition. Let's take a short look at what the program has to offer.
Interface
Apple is allegedly the king of design, but as a famous person once said
"Simplicity is the ultimate sophistication."
When you start WinX MediaTrans, you have a clear overview of your options and you don't have to click through a bunch of menus and submenus before finding what you actually want to do.
Flexibility
A big problem hybrid users, who have an iOS device but a Windows computer, have is moving photos from your device to the computer, and uploading music and videos from your computer to your device.
Photos: A big plus for WinX MediaTrans, is that it doesn't force you to move your pictures to the cloud. You can easily move your images to your computer, sorting them according to folder or date, and save them where ever you want. The wire connection is also impressively fast, you can transfer some 20 high resolution pictures a second.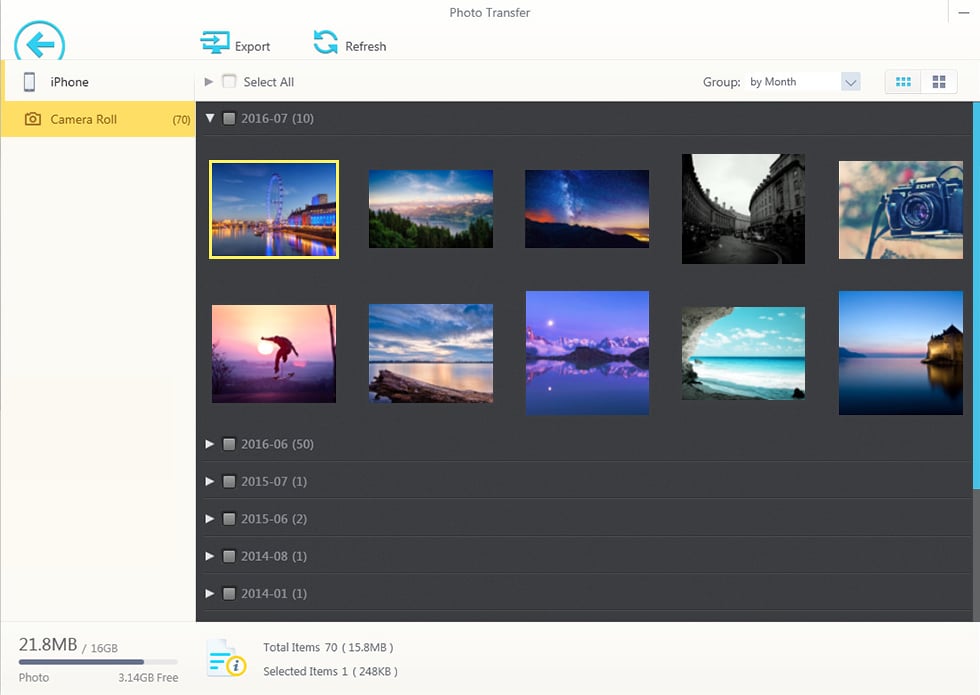 This is a blessing for people with low storage on their iPhone, who see no reason in paying the ridiculous prices for extended cloud storage.
Music: WinX MediaTrans offers the same ease to transfer music as it does for photos, but one function stood out for me and that was the ability to transfer, edit and create playlists. The software makes the whole process easy and intuitive, something that has often frustrated me with other solutions. Backup your music and playlists around is one of those tasks that you do on a regular basis, and it should always be as easy as possible. The interface is clean, tidy and self explanatory.
See the tips on how to sync music from computer to iPhone >>
iBook: Being a bookworm, I have hundreds, if not thousands, of books and documents, in all possible formats, scattered all over my hard disk. I sometimes would prefer to use an iPad over a Kindle to read things, but the process was too complicated to even try. WinX MediaTrans converts ePubs, PDFs etc on the go, when loading them on your device AND if you have a purchased iBook that you would like to read on your Kindle, then WinX MediaTrans can remove the DRM making it easy to convert it to any format you like.
Movies: What WinX MediaTrans can do with ebooks it can do with movies too. Thanks to Intel QSV and Nvidia NVENC, media can encode videos to and from your device reasonably fast. The software makes use of your graphic card to encode videos, making the process faster and puts less strain on your computer's CPU.
You can easily move and convert any video to your iOS device to watch later, you can reduce the size of videos already on your device, and like with eBooks, you can unchain iTunes DRM on your purchased videos to watch them on another device.
Extras
Flash Drive: You can use the security of your iDevice to transport sensitive files, like a USB drive.
You can't use the uploaded files on your device, but if you are in the habit of losing, or misplacing, USB sticks, then this is a practical and safe alternative.
Voice and Ringtone: This should be a standard feature on any iOS device. With this feature you can take any wave file, edit it, and use it as a ring or alarm tone on your iOS device. It always makes me laugh when an iPhone rings and everybody reaches for their phone, a little customizing is definitely welcome.