At an event last night, Research in Motion officially cut the ribbon on the much-discussed Playbook tablet.
While consumers have looked at the iPad, Galaxy Tab, and various other tablets with interest and curiosity, there's a different vibe going on with the Playbook.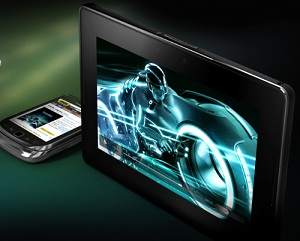 Because the Blackberry brand has lost more than 10% market share over the last 12 months and hasn't done anything to reinvigorate itself, the Playbook is seen as the company's last chance to remain relevant.
Last night was RIM's official launch party, and the vibe was notably different than it would have been for any other company. Instead of banter about how exciting the Playbook is, the more common question was, "Does it stand a chance?"
The initial units will only have Wi-Fi connectivity, since RIM is setting its mobile data sights for the device exclusively on 4G. It's working with Sprint to make a version compatible with its high-speed network.
It's going to be a very important product for RIM. The company has been literally bleeding out subscribers. Even though it still remains the #1 smartphone platform in the US, that lead is diminishing very quickly.
The Playbook is seen by many as the company's last chance to stay on top before it's completely gobbled up by Android or the iPhone, but it has a lot of competition. In addition to the iPad which is its direct competitor, Samsung's Galaxy Tab is making waves, and Motorola's Xoom tablet – which will also be 4G-capable – is catching a lot of attention.
RIM's last move to compete against the new mobile giants was a huge failure. The Blackberry Torch, the first to include RIM's brand new Blackberry operating system, was seen as nothing more than a minor incremental upgrade to the increasingly-dated Blackberry software. For Playbook, it's a completely new, from-the-ground-up operating system.
Units are shipping to stores right now, and will be available for sale on Tuesday.