Motorola is reportedly preparing to launch an Android-powered smartphone with a "flip-around" display in June 2010.
According to Brighthand (via Gizmodo Brasil), the Flipout will boast a 2.8-inch touchscreen that rotates to expose a small QWETRY keyboard and D-Pad.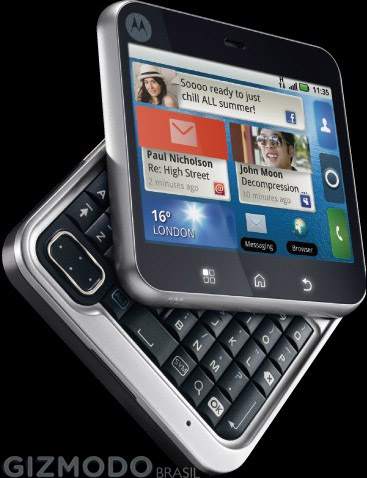 The device is also expected to run Android OS 2.1 on a 700 MHz processor with 256 MB of RAM, along with HSPA 3G, a GPS receiver and 3.1 megapixel camera.
"The Flipout is going to include MotoBlur, Motorola's software that brings together messages from a range of social-networking services like Facebook and Twitter, text messages, as well as consumer and business email accounts, into a universal inbox," explained Brighthand's Ed Hardy.
"Also unknown is the price, though given its feature set this won't be an expensive smartphone."
Meanwhile, Ian Paul of PC World noted that the "most interesting aspect" of the Flipout was the fact that it was loaded with both Android OS 2.1 (Eclair) and MotoBlur.
"So far, Motorola's social networking-focused overlay has been used with Android versions 1.5 (Cupcake) and 1.6 (Donut), but has not yet been shipped on a device running 2.1. Motorola's Cliq and recently released Cliq XT, for example, run Android 1.5 and the Motorola Devour uses Android 1.6," wrote Paul.
"[And] Motorola's Backflip from AT&T, another MotoBlur device, is currently running Android 1.5, but is supposed to get an upgrade to Android 2.1 later this year. So if the FlipOut appears in June, as rumors suggest, it would be Motorola's first device running MotoBlur and Android 2.1."