In an effort to spread the availability of its mobile operating system, HP is in talks to license the OS to other companies.
Bloomberg reports the company's CEO was in Beijing yesterday, where he was quoted as saying, "We are talking to a number of companies [about licensing WebOS]. I can share with you that a number of companies have expressed interest. We are continuing our conversations."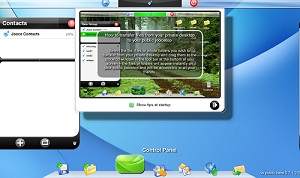 WebOS is the latest David vs. Goliath story in the mobile market that has become dominated by the giants known as Android and the iPhone. HP received the software when it acquired the now-defunct Palm company in a bid to boost its mobile presence.
However, it just sat in the company's pocket until the recent launch of the HP Touchpad tablet, the first tablet to use WebOS and the first device of any kind to use the software since the HP acquisition.
Reviews of the device are mixed, with a common complaint that it doesn't have a lot of apps. Developers will only turn to the platforms that have a large installed base. That's why products like Windows Phone 7 and the Blackberry Playbook aren't getting a lot of app support.
One way to increase the WebOS community would be to license it, but then the question becomes who would want it? Android doesn't have any licensing fees and it has a much bigger following, so the idea of paying for a mobile OS that has been largely untested seems like a stretch.
Nevertheless, the mobile market is a wildly evolving creature. Windows Phone 7 is at the forefront of a lot of analyst predictions for the future, so things can shake up quickly. If HP plays its cards perfectly, it may have a shot.