An analyst at Forward Concepts believes Intel may be one of several companies interested in purchasing TI's OMAP division.

Although it remains unclear if Texas Instruments is even selling off its OMAP business, FC principal analyst Will Strauss says Santa Clara may ultimately be interested in combining an ARM-based applications processor with baseband technology recently acquired from Infineon Technologies.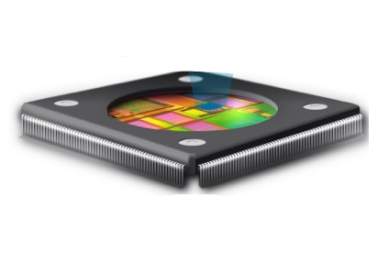 Strauss – who acknowledged he was speculating – estimated the OMAP division is worth approximately $1 billion.
As such, there are only a relatively small number of companies able to afford such a deal.
"People are looking at alternatives to Intel [architecture]," Strauss said. "Maybe Intel should, too."
The analyst added that AMD could theoretically be interested in snapping up TI's OMAP division as well, but would probably have to make do with a merger rather than a cash buy. 

As Strauss notes, TI's OMAP business would help kickstart AMD's recently announced tablet initiative.
Unsurprisingly, Intel continues to strenuously deny that it is considering deploying ARM architecture in any serious way.
"[Sure], we have an ARM architecture license. [But] we have no intention to use [it] again to build [a RISC-powered] chip. There's [just] no advantage, because we'd be beholden to someone else," Intel CEO Paul Otellini said back in May.
"[Plus], we would pay royalties to them and lower the overall profits. I think we can do better. [Really], the most important thing for us is to figure out how to [make money] and how to be [in the market]. And we think the best way to [do that] is by designing best-of-class x86 chips."
Meanwhile, Charlie Demerjian of SemiAccurate reports that Broadcom is "taking a long hard look" at TI's OMAP.
According to Demerjian, a potential acquisition by Broadcom would make a "good bit of sense" for a number of reasons.
"For Broadcom, it would put them in the top tier of ARM players, and allow TI to get back to doing what they do best. [Still], that leaves two questions, is it worth the price, and what is the OMAP division?


"Price is easy, and that is Broadcom's decision. What constitutes OMAP, and how you peel the other ARM, software, compiler, and related IP tendrils from the rest of TI is a thornier question."


Demerjian also confirmed that other corporations are mulling over a possible OMAP buy, but would inevitably be forced to answer the same difficult questions as Broadcom. 


"Time will tell who, if any, take home the golden DSP award for best SoC," he added.
[Via EETimes & SemiAccurate]