Today PepsiCo announced the launch of a Social Vending System. It's part of the company's commitment to developing "smart" equipment.
The Social Vending System is a high-tech networked unit that has full touch screen interactive vending technology, allowing consumers to better connect with PepsiCo brands right at the place of purchase. A prototype model of the Social Vending System will be unveiled at the National Automatic Merchandising Association's One Show in Chicago, April 27-29.



By using digital technology, PepsiCo's Social Vending System permits users to send a gift to a friend by selecting a beverage and entering the receiver's name, mobile number and a customized text message. There's also the choice to further personalize the gift with a small video recorded right at the machine.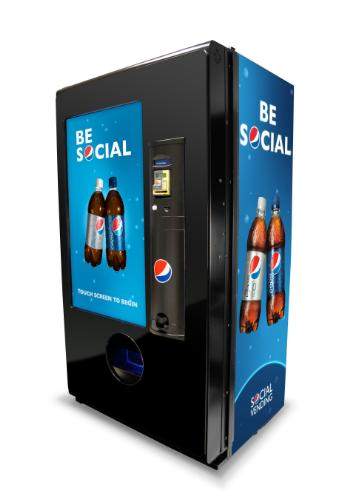 The gift is sent with a system code and instructions to redeem it at any PepsiCo Social Vending System. When the recipient cashes in their gift, they're given the option of thanking the sender with a gift of their own or sharing the good karma and gifting a beverage to another friend.



PepsiCo's use of telemetry with the Social Vending System also gives tremendous operational benefits, letting operators to carefully manage inventory levels and deliver scheduling remotely, and easily update digital content online, enabling them to change messaging and media as needed.



"Our vision is to use innovative technology to empower consumers and create new ways for them to engage with our brands, their social networks and each other at the point of purchase," said Mikel Durham, Chief Innovation Officer at PepsiCo Foodservice. "Social Vending extends our consumers' social networks beyond the confines of their own devices and transforms a static, transaction-oriented experience into something fun and exciting they'll want to return to, again and again."



Social Vending also supports "Random Acts of Refreshment", the ability to buy a drink for a complete stranger through any Social Vending System. For example, a customer could send a sign of encouragement to a city that's experienced challenging weather, or a congratulatory beverage to a university that just won a championship.



The Social Vending platform has the potential to extend all of PepsiCo's digital and social programs, including Doritos "Crash the Super Bowl" Takeover, Pepsi Refresh Project and DEWmocracy, beyond consumers' own devices all the way to the point of purchase.



The Social Vending System was cooked up by PepsiCo's new Equipment Innovation group, whose mission is to use emerging technologies to give customers brand experiences for customers through equipment. The design and UI were created through partnerships with Milwaukee, WI based DCI Marketing and Protagonist, located in Venice Beach, CA.



"Our approach to technology innovation is driven by what we know consumers want. We're working with some of the best minds in the business to develop equipment that provides customization, personalization and choice," said Christine Sisler, VP, Equipment Innovation, PepsiCo. "Our Social Vending System delivers on those insights and more – it's also visually engaging, fast, intuitive and satisfying to use."



Additional development of the Social Vending System platform is ongoing, and PepsiCo expects to test the concept with key strategic partners later this year.