This week, Apple unveiled a new version of its long-awaited iPad at a packed event in San Francisco, California.
The latest iteration of the wildly popular tablet is powered by Cupertino's indigenously designed A5X, which CEO Tim Cook claimed offers four times the graphics performance of Nvidia's Tegra 3 processor.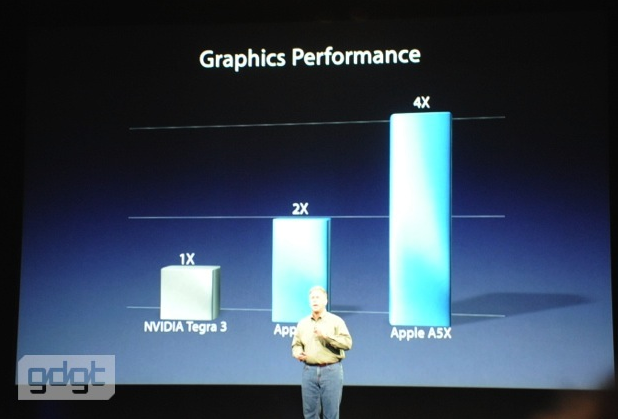 As you probably know by now, just about all technology fans like to see benchmarks, and by that, I mean literally see.
We want to know what benchmark was used, along with a host of other data to make us feel like the numbers are legit.
Any time a company steps up and starts throwing around claims with little or no data to back it up, well, my Spidey sense starts tingling.
Apparently, Nvidia feels the same way, because Big Green wants to know some specifics on how Apple came by its controversial claim.
"We don't have the benchmark information. [Plus], we have to understand what application was used," Nvidia rep Ken Brown told ZDNet. "Was it one or a variety of applications? What drivers were used? There are so many issues to get into with benchmark."
Brown also emphasized that it was "certainly flattering" for Apple to compare its new flagship processor to the Tegra 3.
He added: "At some point it will become more clear what the performance really is. For now, Apple has a really generic statement."
You can bet technology fans and reviewers around the web are frothing at the bit to get their hands on the new iPad and a tablet running Nvidia's Tegra 3 chip for comparison. Whether or not you're inclined to believe Apple's claim really depends on how you feel about the company.
Cupertino tends to polarize geeks with some people on the can do no wrong side, and others on the Apple can do no right while the bulk of us fall somewhere in between. Right now, the only Tegra 3 tablet Nvidia lists on its website is the Asus Eee Pad Transformer Prime. Personally, I can't wait to see it take on the new iPad in a benchmark battle.