Gateway has taken on Apple's iMac with its multi-touch, all-in-one (AIO) desktop. The ZX – which resembles a sleek, flat-panel TV – is expected to offer PC users an "entirely new computing experience."

"While touch screen PCs to date have been cost-prohibitive and somewhat limited in their capabilities, [we are] making this new technology more accessible to average consumers, while using an industry-standard solution that isn't challenging to learn," explained Gateway spokesperson Ray Sawall.
"The functionality of Windows 7 and multi-touch brings an entirely new computing experience to consumers, and our affordable all-in-one PCs are the perfect vehicle for showcasing this technology."
According to Sawall, the ZX features an adjustable back stand, integrated speakers, HD web cam, microphone, and a wireless keyboard/mouse. The ZX is also loaded with a number of native touch-oriented programs, including music, photo and social networking apps.
"Delivering a superior touch screen experience, [the ZX] offers more gesture combinations than single touch screens; a finer, more accurate way to interface with the PC, and an experience that is fast, intuitive and fun to use," added Sawall.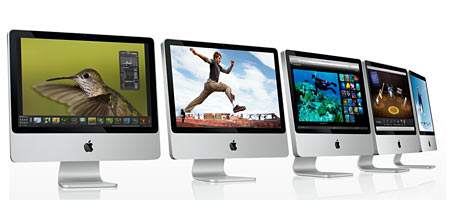 The entry-level Gateway ZX4800-02 is expected to debut in late October/early November at a price point of $750. It should be noted that the least expensive iMac, which lacks integrated multi-touch technology, retails for $1200.
Gateway ZX4800-02 Specs:
$750 MSRP
Windows 7 Home OS
20-inch HD widescreen Ultrabright LCD
Resolution: 1600 x 900 resolution
Intel Pentium Dual Core Processor T4300 (2.1GHz, 1MB L2 cache, 800MHz FSB)
Intel GL40 Express Chipset
Intel GMA X4500HD Graphics
4GB DDR2 dual channel memory (800MHz)
750GB SATA hard drive
8x DVD+/-R/RW SuperMulti optical drive
Multi-in-one digital media card reader
Integrated 802.11 b/g/DRAFT-N Wi-Fi
10/100/1000 (Gigabit) LAN
6 USB 2.0 ports (2 side / 4 rear)
Gateway ZX6810-01 Specs:
$1,400 MSRP
Windows 7 Home OS
23-inch HD widescreen Ultrabright LCD
1920 x 1080 resolution
Intel Core 2 Quad Processor Q8200S (2.33GHz, 4MB L2 cache, 1333MHz FSB)
Intel GM45 Express Chipset
ATI Mobility Radeon HD 4670 Graphics with 1GB DDR3 memory
8GB DDR3 SDRAM (1333MHz)
1TB SATA HD
64GB SSD
8x DVD+/-R/RW SuperMulti optical drive (slot load)
Multi-in-one digital media card reader
Integrated 802.11 b/g/DRAFT-N Wi-Fi
10/100/1000 (Gigabit) LAN
6 USB 2.0 ports (2 side / 4 rear)
1 eSATA port
Hybrid TV tuner with remote control