Dell has introduced five new Alienware gaming rigs. The rigs – which were jointly developed with Alienware – include four overclocked liquid-cooled desktop systems and a 15-inch laptop.
Aurora


Alienware Aurora and Aurora ALX – The Aurora line features the new Intel Core i7 processor, including an optional Extreme Edition overclocked to 3.6GHz. According to Dell, the Aurora line of desktops are designed for hardcore gaming, pro-level HD audio, video editing and 3D animation. In addition, the Aurora rigs can accommodate dual 1GB ATI Radeon HD 5870 graphics cards, 24GB DDR3 1333MHz memory (or 12GB DDR3 1600MHz memory) and up to 2TB of hard drive storage.
Pricing for the Aurora starts at $1,299.
Area 51


The Area-51 and Area-51 ALX systems are targeted at "extreme gamers" and tech enthusiasts. The rigs feature Intel Core i7 processors factory overclocked to 3.86GHz. The units also include support for Nvidia GeForce GTX 295 graphics cards and up to 12GB DDR3 memory clocked at 1333MHz or 1600MHz. Finally, Area 51 offers six cable-free HD bays for 7,200RPM/10,000RPM drives, SSDs and various raid configurations, such as 0, RAID 1 and 10.

The Area 51 base-configuration price begins at $2,000.
M15x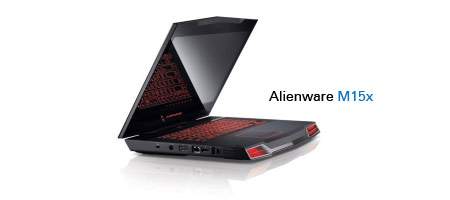 The Alienware M15x laptop boasts a mobile Core i7 processor, along with a 1GB NVIDIA GeForce GTX 260M GPU and up to 8GB DDR3 1333MHz memory.
Prices start at $1,500.