The cool contraption that grew its wings on the iPhone is now flying forward to new adventures.
We're talking about the AR Drone, the remote-controlled quadrocopter. In addition to being a powerful, sophisticated flying device, it gained a lot of attention because of the way it's controlled – via an iPhone or iPad.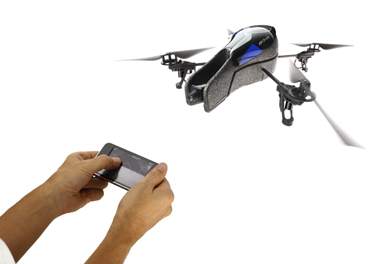 The AR Drone has a tiny WiFi sensor built-in, which receives commands from the corresponding iOS app.
But it's much more than that. The company behind AR Drone, Parrot, wants users to think of the copter as a gaming device. That's because the AR Drone also has a digital camera, which transmits video of the flight in real-time to your iPhone or iPad.
There are a handful of games that distort this video feed to make it appear as though enemy creatures are in the way, so to take them down users have to fly the real-life copter while shooting down the enemies in the confines of the game.
Parrot held a press conference today at the E3 trade show, where it announced the same apps are finally coming to Android, something non-iPhone-owning onlookers have been asking for over the last year.
In addition, a new game launches today for iOS, called AR Race. And if you really want to go crazy with augmented reality, there are also real, physical obstacles you can buy to set up in your yard (or should we say, your makeshift race track?) Parrot is working to really turn the Drone into its own video game platform. The company promised more games are in the works.