Apple has upgraded its popular iPod touch with with a crystal-clear Retina display, FaceTime video calling capabilities and HD video recording.
The latest version of the touch – which is powered by Apple's powerful and indigenously designed (ARM-based) A4 chip – also features a 3-axis gyro, a front-facing camera/mic (hello Facetime!), rear facing camera, iOS 4.1 and access to the multiplayer Game Center.
And, most important of all, the new touch supports up to 40 hours of music playback and seven hours of video playback on, yes, a single battery charge!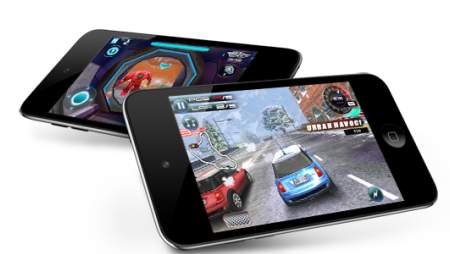 "We've put our most advanced technology inside the new iPod touch," Apple CEO Steve Jobs explained today during an eagerly awaited keynote speech in San Francisco. 


"Whether you're listening to music, playing games, making FaceTime video calls, browsing the web, capturing HD video or watching TV shows and movies, the new iPod touch with its Retina display, A4 chip and 3-axis gyro is more fun than ever."
Jobs noted that Apple's "stunning" Retina display makes everything on the iPod touch look "even more incredible," whether playing games, watching video, browsing the web or flicking through photos.
And it should, because the Retina display boasts an astonishing 960 x 640 pixels.
The resulting 326 pixels per inch is so dense that the human eye is unable to distinguish individual pixels when iPod touch is held at a normal distance – making text, images and video look sharper, smoother and more realistic.
The new iPod touch will be available next week at $229 for the 8GB model, $299 for the 32GB iteration and $399 for the 64GB version.