Hyundai recently debuted a quad-core Android tablet. Boasting a 10-inch screen, the T10 can be thought of as the big brother to the T7 we discussed back in January.
The T10 is powered by a 1.4 GHz Samsung Exynos 4412 quad-core processor paired with 2 GB of RAM and Mali 400 graphics.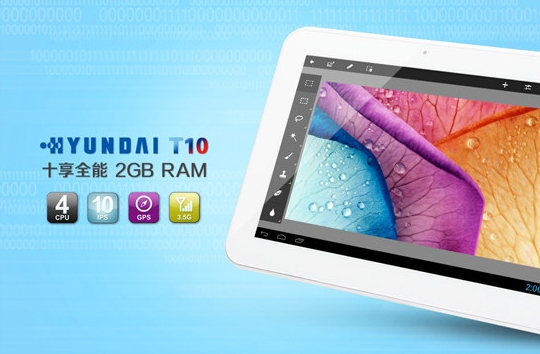 The screen is actually 10.1-inches with a resolution of 1280 x 800. It's probably worth noting that the 10.1-inch screen offers up the same native resolution as the 7-inch screen on the T7. Meaning, both the video and image quality and image quality on the larger T10 won't surpass the smaller tablet.
The tablet also features integrated Wi-Fi, Bluetooth, and GPS. The operating system is Android 4.0 (Ice Cream Sandwich) and word is that an upgrade to Android 4.2 (Jelly Bean) is coming next month. Unfortunately, pricing is still an enigma, although it is probably safe to assume the T10 will carry a reasonable price tag just like its predecessor which weighs in at a cool $166.
It also uses the same processor and is equipped with both front and rear cameras. It's unclear if the T10 has an integrated camera or not. If the T10 does not, the larger screen could offset the cost of the cameras – possibly bringing it in at close to, if not the same price, as its smaller sibling.