Right on the heels of Samsung's large Galaxy Note phone, LG is coming forward with a larger-than-usual handset.
The Galaxy Note is already turning a lot of heads. Its 5.3-inch display puts somewhere in between the category of smartphone and tablet.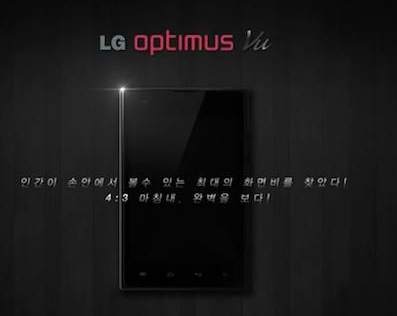 It even comes with its own stylus, proving that it's starting to blur the line between the two types of mobile gadgets everyone has until now placed in entirely separate buckets.
When smartphones began to cross over the 4-inch barrier, many assumed they could never get much bigger than that. But perhaps that is the next trend, and it may take some getting used to.
The fact is that people are doing more and more with their phones. The primary function of a cell phone is no longer to call people, so perhaps the need for a compact, comfortable handset that you put up to your face is being outweighed by the need to have access to data and information at your fingertips.
The LG product which is being revealed in Japanese promotional photos, appears to be named the Optimus Vu or the Optimus Sketch. The latter would be similar to the Galaxy Note, emphasizing a "notebook" kind of product.
What's more curious, though, is that the LG device has a 4:3 aspect ratio instead of the more popular widescreen 16:10 used in the Galaxy Note. A 4:3 aspect ratio is an interesting idea, as it might make reading e-books and looking at portrait-oriented photos more enjoyable.
For now, nothing has been said or leaked about the device in the US, but it's certainly one to keep an eye on.