In what seems to be a trend, almost every Chinese smartphone maker has released a new model with 'Max' as a suffix in the name. After LeEco Max, Xiaomi Max, Asus has launched a new variant in its ZenFone line-up – the ZenFone Max.
While LeEco and Xiaomi Max models focus on the huge screen size, ZenFone Max packs a mammoth 5,000 mAh battery. Is there anything beyond that? Read the review.
Pros:
Good performance
Decent cameras
Affordable
Cons:
No fast charging
Heavy
Cluttered user interface
Asus ZenFone Max has a 5.5-inch HD display
What's Good?
Asus Zenfone Max carries the series' signature design – a thin strip of concentric circles on the bottom, with a metallic strip running along the sides of the phone. The back of the phone is textured with a faux-leather finish. The design looks decent, albeit slightly dated.
ZenFone Max carries the common ZenFone design
Asus has two versions of the smartphones. A 2GB RAM ZenFone Max and a 3GB variant. The dual-SIM smartphone manages to swiftly run most of the heavy games.
Running Android 6.0 Marshmallow, ZenFone Max comes with an octa-core Snapdragon 615 processor, which lags slightly when switching applications, but doesn't majorly interfere with your work. Both phones come with 32GB built-in storage which can be pumped up to 64 GB via microSD card.
ZenFone Max has a faux leather back finish
The Zenfone Max has a 5,000 mAh battery while an average smartphone packs in anywhere between 2,000 mAh to 3,000 mAh.
ZenFone Max will easily last you two days on a single charge. If used heavily with cameras, WiFi, 4G and messaging, you may need to plug in after a day and a half, which is still really good.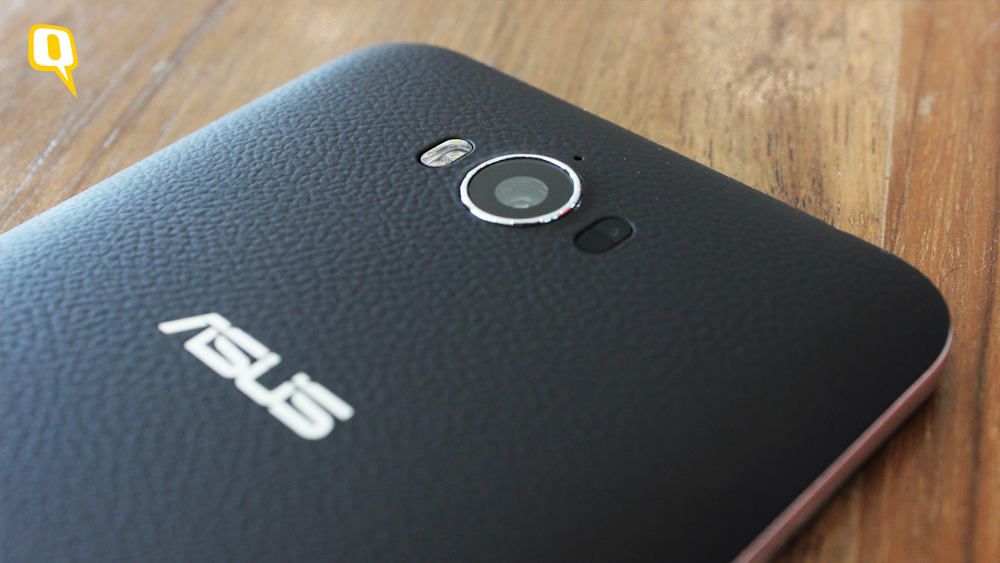 ZenFone Max has a 13-megapixel camera on the back which doesn't disappoint
The 13-megapixel rear shooter has a lot of modes to keep the shutterbug in you happy, with slow-mo, time-lapse, tilt-shift modes thrown in. The camera also captures good colours in decent light.
The front 5-megapixel is snappy and has a 'Make-up' feature which can thin your cheeks, enlarge your eyes, add a blush to your cheeks and so on.
What's Bad?
It is HEAVY! Yes, with the massive battery planted inside, the phone has has become heavier and thicker. A 5.5-inch device which weighs over 200g may not suit a lot of hands. Additionally, the phone doesn't support QuickCharge, which effectively means you wait for almost a lifetime to get it fully juiced up – 5 hours, to be precise.
ZenFone Max is heavy, and thick!
Also, this being a ZenFone, you get a smartphone cluttered with all the ASUS bloatware, which makes the phone a bit laggy while hogging the storage and RAM.
ZenFone Max lasts for over two days on moderate use
Why Buy it?
Consider the ZenFone Max if you want a power-bank enabled phone (Yes, the phone really works as a power-bank through the OTG support cable). If not, then there are enough smartphones in the market with big batteries, good cameras and a metal finish.