New Galaxy Note 4, Note Edge and Gear VR virtual reality headset are filling out Samsung's product line.
The new device announcements come only a few days after Samsung announced their new Gear S, a smart watch that features a 2-inch, Super AMOLED, curved display, has built-in GPS and doesn't need to be tethered to a phone in order to receive calls or messages.
The new Galaxy Note 4 features a 5.7-inch QHD screen super AMOLED display, the pressure sensitivity has been doubled to improve accuracy when using the S-pen and they've added a few extra 'selfie' modes with a 90 degree front camera wide selfie mode and a panoramic feature for 'wide' selfies.
The Galaxy Note Edge features a curved screen that, well, wraps around the edge of the phone and features seven different edge panels that can display things like a ruler or a scrolling stock ticker. One of the Edge's more edgy features is that it can be used to power their new Gear VR virtual reality headset.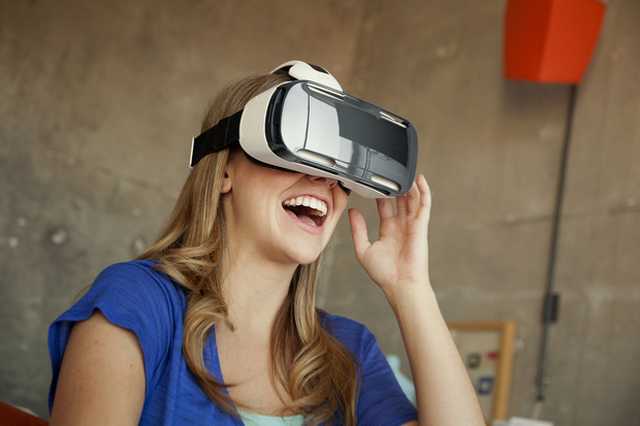 (Does anyone believe this person is really having that much virtual fun?)
The Gear VR headset boasts a Super AMOELD high-res screen, with a 96-degree viewing angle and was developed in conjunction with Oculus VR.
I think the Gear S smart watch is a good step in the right direction since it doesn't look like you tied a deck of cards to your arm and you don't need to carry around a phone in order to make phone calls. The Note 4 sounds like, well, another smartphone. The Note Edge is a bit of a puzzle but having thin changeable panels on the side of your phablet might be useful – we'll have to wait for the verdicts to come in on that one.
Now the Gear VR sounds like they did it just so that they could say they did it but I seriously doubt the company expects to make a ton of money selling virtual reality products.
All in all, however, I'd say Samsung has a pretty strong fall line-up and while none of these products are likely to change the global economy (or more specifically Samsung's bottom line) they are all steps in the right direction…except maybe for the Gear VR thing.