It has been a couple of years since Facebook did a major lovefest with the developer community. Emphasizing stability and tools to build a mobile ecosphere driven by Facebook's marketing clout, the company is hoping to become a subsection of the mobile internet albeit one with a 1 billion captive users.
Facebook's strategy is pretty simple: keep its users talking to each other through social media sharing and then find ways to market to their specific needs. In many ways Facebook is a more powerful marketing medium than Google because it offers a number of highly targeted avenues to reach users and can help advertisers go local in a way that Google cannot hope to match.
Initially, the new mobile ad network, called Facebook's Audience Network, is expanding its test audience. But, anyone who markets through Facebook ads is going to be eager to see the service go mainstream.
The Audience Network adds additional in-app mobile features to scale their campaigns and target their audience wherever they are on their mobile device.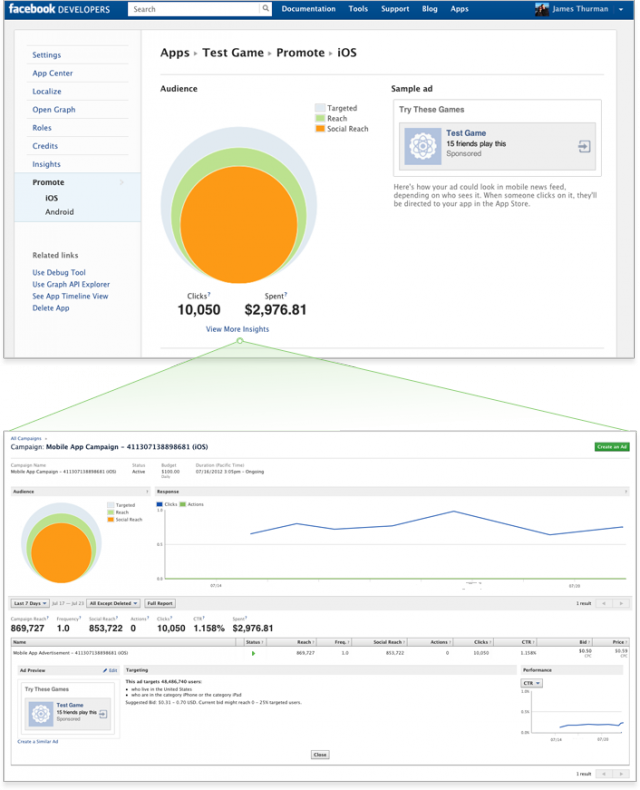 It uses the same targeting features as the existing Facebook ad system which includes a pretty effective set of audience customization tools that, in our opinion, set Facebook apart from someone like Google.
However, most importantly for businesses, the Facebook Audience Network adapts its ads so that regardless of format they fit inside native apps.
In addition, through its SDK, Facebook is delivering information to measure app engagements and conversions, demographic information and more. The results from Facebook campaigns and Audience Network campaigns can be broken out separately to show what's working, or results can be viewed comprehensively.
The Audience Network is targeting advertisers who want to drive installs and app usage with the view to include other marketing objectives in the future, according to Facebook.
Facebook is doing everyone a favor taking on Google's dominance. The competition should produce better tools, allow for better advertising, and it may end up creating better experiences for users who will engage with better, more focused ads.