If you think of yourself as a crafty person, you should make a thick sweater to keep away the winter chill. Get in the seasonal spirit and take out those crafting supplies so that you can make a wonderful sweater in time for the upcoming holidays.
If You Want To Make The Sweater Practical
If you live in an area that gets bitterly cold, you will want a sweater that keeps you warm and comfortable at all times. When you choose a knitting or crocheting pattern, look for full-coverage—you will want long sleeves and a high neckline or even a turtleneck. You should also choose a pattern that is considered easy because making a sweater can take some time and the winter holidays are quickly approaching. If you don't know how to get started on this crafting project, you can find a variety of easy sweater patterns on the website Yarnspirations. The website is also the perfect source to get the tools and materials that you need to make your sweater—their huge selection of yarn online can even help you find the right fiber, weight, colour and brand for your project.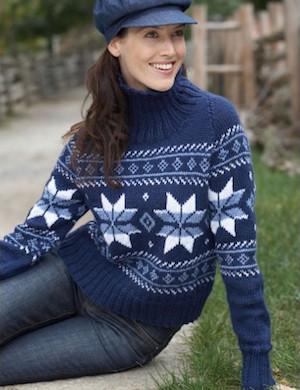 If You Want To Make The Sweater Festive
When you craft your sweater, you can design it so that it matches a winter holiday that you are excited about—it can be Christmas, Hanukkah, Kwanzaa, Yule or any other important upcoming holiday. Use the themes and traditional decorations as inspiration so that your clothing really captures the spirit of the celebration. For instance, if you're making a Christmas sweater you can include holiday symbols like reindeer, Santa Claus, mistletoe, pine trees or snowflakes. To make a sweater that will be appropriate for Christmas and for the rest of the year, you can always make it green, red, white or a combination of all three colours.
If You Want To Make The Sweater Tacky
This suggestion might go against your crafting instincts, but making a sweater that's tacky or gaudy on purpose is a fun trend that has been growing in popularity. For years people have been throwing ugly sweater parties during the winter holidays, where they invite guests to wear their loudest, wildest and weirdest sweaters. The party idea has gotten so popular that there is an official Ugly Christmas Sweater Day, which takes place this year on December 15th. If you want to let go of your inhibitions, make a sweater as gaudy and over-decorated with designs as possible—you can mix patterns, pick clashing colours and add on a hodgepodge of appliques.
Embrace your natural crafting skills by picking up your knitting needles and making yourself a thick sweater for the winter. If you really want to capture the spirit of the season, you can specifically craft your sweater to match one of the upcoming holidays. Whatever the reason or inspiration, you will be happy you finished your wonderful new sweater by the time winter is in full swing.