The costumes have been put away, the candy has been eaten, and the pumpkin and bat décor are being replaced with cornucopias and snowmen, and that can only mean one thing: The holiday season is upon us. And with that, comes holiday shopping.
It's no mystery that over the last decade, online shopping has become the preferred way for many people to get their holiday shopping done. But even online shopping has come a long way, and with the improvement of mobile devices, new digital payment options, and the development of social media, it's changing even more.
With that in mind, here are five trends expected to dominate the 2017 holiday shopping season.
1. Mobile Payments Will Increase
The number of shoppers using mobile payment services like Apple Pay is expected to increase considerably this year, as more people become comfortable with the technology. The speed and convenience of mobile payment options is a major driver of the increased adoption, as well as advances in security.
Customers appreciate being able to make a purchase without having to enter their billing and shipping addresses or credit card numbers, and the use of biometric security measures such as fingerprints or facial recognition adds an extra layer of peace of mind — which will contribute to increased adoption.
2. The Rate of E-Commerce Sales Will Grow Slightly
E-commerce has seen continual growth over the last few years, increasing at a rate of about 15 percent to 20 percent each year. Most experts predict that pattern to continue, with e-commerce sales increasing 16 percent 17 percent in 2017, potentially accounting for nearly 12 percent of all retail sales during this holiday season.
This is despite a lengthening of the holiday season that spreads out holiday shopping over a longer time period, as more than a third of shoppers report starting their gift shopping before October. However, with rising consumer confidence rates, low unemployment, and an overall better economy, many retailers expect a strong holiday season with a modest 3.1 percent growth overall.
3. Smartphones Will Gain Momentum as a Shopping Platform
While the majority of online shoppers use a desktop or laptop to make purchases, improvements to smartphones and tablets are expected to lead to a significant increase in mobile sales this year. By some estimates, mobile sales are expected to increase by nearly 60 percent in 2017 over last year. The driving factors? Better smartphones with larger screens, improved development of shopping apps that create a better shopping experience, simplified and secure mobile payment options, and more retailer promotions designed to drive traffic to mobile apps and to shop on devices.
4. Mobile Email Marketing Matters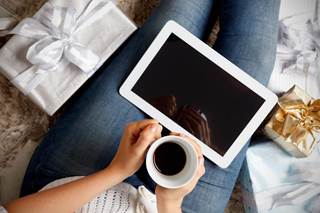 Speaking of mobile shopping, optimizing marketing emails for mobile devices is more important than ever before. Email marketing continues to be a key aspect of most retailers' holiday outreach, and considering that 54 percent of all emails are opened on a mobile device, retailers must focus on making their email messaging mobile friendly if they are going to see results this year.
Emails must be designed to be read on all devices, and your site must be optimized for mobile traffic. The content of those emails is important, as well. This year, customers are not only going to be looking for deals and discounts, but they are also attracted to free shipping and returns, multiple delivery options (e.g., a choice between delivery or in-store pickup), and excellent customer service.
5. Influencers Are a Key Aspect of Sales Growth
Finally, influencer marketing is expected to be a key driver of sales this holiday season. Major brands have begun using influencer marketing – including working with bloggers and social media stars – to build awareness and demand for their products. Sponsoring posts, offering freebies to users for coverage, and creating special discounts or promotions for the followers of a specific influencer can all boost awareness and, ultimately, sales.
Influencer campaigns aren't going to be limited to just the biggest names, though. Expect to see many retailers providing shareable content for customers. For example, many shops might ask customers to snap a photo in front of a display and share it on social media with a specific hashtag in exchange for a discount or entry in a giveaway drawing. Refer-a-friend discounts, social contests that requiring tagging or sharing with friends, and great content can all inspire your customers to share your stuff with their networks, building your customer base and sales.
The holiday season represents a significant portion of sales for many businesses. By keeping an eye on these trends, you can leverage them to your advantage — and exceed all of your expectations.