NASA is feeling the pressure as Congress demands a finalized design for a heavy-lift rocket that will be used to launch future manned space missions.
During a recent congressional panel, House reps grilled NASA chief Charlie Bolden on details of the rockets design.
Legislators originally gave NASA a deadline of mid-January 2011 to come up with a heavy-lift rocket blueprint, which the space agency has failed to meet.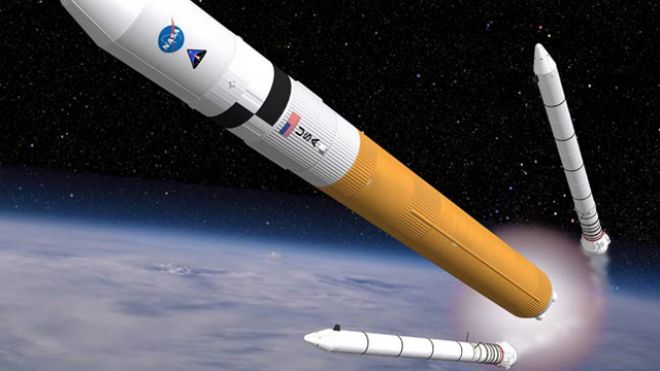 "We've waited for answers that have not come. We've pleaded for answers that have not come," committee chairman Ralph Hall (R-Texas) said to Bolden. "We've run out of patience."
However, Bolden maintains NASA has submitted a design to the federal Office of Management and Budget and consulting firm Booz Allen Hamilton and is waiting on cost estimates.
In May, NASA announced the future Multi-Purpose Crew Vehicle spaceship would be modeled after the Orion spacecraft, which was commissioned under President George W. Bush's Constellation program. The Obama administration canceled the Constellation program last year.
Last year President Obama announced America's space goals, hoping NASA can get an astronaut to an asteroid by 2025 and to Mars by the mid-2030s. Of course the Space Launch System heavy-lift rocket is integral to Obama's goals and a space shuttle launch.
Some members of Congress worry that if NASA can't produce solid plans of the spacecraft, the U.S. might fall behind as the global leader in spaceflight, especially after recently shutting down the (manned) space shuttle program after a 30 year run. The pressure is intensifying as other nations like China amp up their own space exploration initiatives.
The loss of leadership may also prompt many of NASA's most prominent thinkers will move on to other space agencies. "I firmly believe that if we lose this talent, it won't be just to another state or another agency," said Rep. Eddie Bernice Johnson (D-Texas). "It'll be to another country."
Bolden heard the congressmen's critisism but testified, "I share that interest and urgency. But we cannot rush a critical decision that will drive NASA's activities for decades."
Bolden remains confident that NASA is indeed on track to achieve America's space goals as laid out by President Obama. He hopes the rocket and the crew can begin tests by 2017 with a manned launch around 2020.
"We are not abandoning human spaceflight," Bolden said. "American leadership in space will continue for at least the next half century because we have laid the foundation for success."
(Via Fox News)