After news of Osama bin Laden's death hit the wire, the WH uploaded a photo to Flickr depicting President Obama, VP Joe Biden, Hillary Clinton and other members of the national security team huddled in a situation room.
The photo, up for only two days, has become the second most viewed image on Flickr – garnering 1,597,561 views in just 38 hours.

This places it more than half way towards breaking the record of Flickr's current most viewed image of Nohkalikai Falls Cherraphunjee, which was taken in 2006 and received 2,978,625 views over a five year period.
Since its upload, the iconic photo has fallen victim to Photoshop fanatics everywhere, who have taken the liberty to take the serious photo and parody it.
Why not add The Situation from Jersey Shore to the Situation Room? Makes perfect sense! Or perhaps we could Rick Roll President Obama?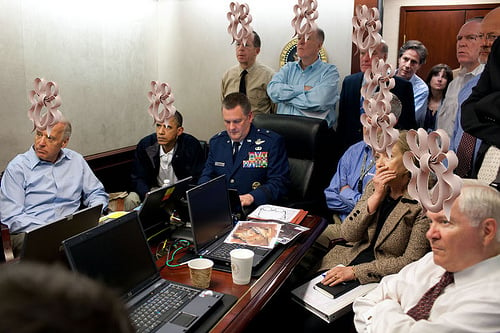 Even better!
Of course there's a royal wedding hat parody and who could forget, the famous sad Internet Keanu meme taken to the next level in none other than the Situation Room.
No doubt this historic photo will continue to gain views on Flickr… and a matching parody photo.
(Via Digital Life)